Everything You Need to Know About Chemical Hair Relaxing
If you've been thinking of growing out your natural hair and having it straightened, it's important to do your research. While hair-relaxing products are improving, overall, there's still much to know before you get this hair-altering process.
VEGAMOUR spoke with an expert in chemical hair relaxers to understand how they work, if they damage your hair and how to care for your hair after the treatment. Plus, discover the best hair care products to use at home to help improve the strength of your relaxed hair.
How Does a Chemical Hair Relaxer Work?
Chemical relaxers are a popular choice for those with curly or highly textured hair. It's a chemical treatment that tightly coiled hair straight, allowing for more versatile styling. When the natural texture is reshaped, the hair can be styled into a variety of straight hairstyles, or into a more "set" curl pattern.
Although there are a few different types of relaxers, they all work the same way. A creamy chemical formula is applied to the hair for a step-by-step chemical process during which the disulfide bonds (hydrogen bonds) in your hair are broken and reformed into a new straightened shape. This is a permanent alteration to the hair's structure, so aftercare is important to address the new needs of the hair. Chemically altered hair needs protein support, moisture support and breakage prevention.
Read More: What You Can Do to Fix Damaged Hair
Chemical Straighteners FAQs
VEGAMOUR spoke with Bridget Amy, a hair expert at AfroLovely, which provides support for Black women on their healthy hair journey. Amy provided some helpful information on what's involved in using chemical relaxers to straighten hair, what you need to know before you head to the salon and how you can keep your relaxed hair healthy.
How Many Different Types of Hair Relaxers Are There?
There are a few different types of hair relaxers, classified by the active ingredient used to break the chemical bonds in the hair. The main types of hair relaxers include:
Sodium hydroxide relaxers: Commonly called lye relaxers. Sodium hydroxide relaxers are suitable for wavy, curly and kinky hair.
Calcium hydroxide relaxers: These are suitable for sensitive scalps and can be used on kinky, curly and wavy hair. Calcium hydroxide has a drying impact on hair and can be more caustic if left on for too long.
Ammonium thioglycolate relaxers: Commonly called thio relaxers, ammonium thioglycolate relaxers relaxers are best for curly or wavy hair.
Guanidine carbonate or "no-lye" relaxers: Though these no-lye relaxers are weaker products, you should still take care when relaxing the hair with these straighteners.
Some types of hair and curl pattern are more delicate and may require a more gentle relaxing process, especially for youth. If your hair is particularly fine, for example, your stylist may opt for a weaker solution to release the curl pattern and straighten the hair permanently.
When relaxing the roots of your hair, do not overlap the chemicals on previously straightened hair. This helps avoid frizzy hair and breakage.
Read More: Hair Loss vs. Hair Breakage: Why the Difference Matters
Should I Be Worried About the Health of My Hair?
If not done properly or with caution, chemical hair relaxing can have harmful effects on the health and integrity of your hair. This means you'll need to find a professional stylist who is adept at these types of chemical hair services and knows how to minimize damage.
Relaxers are strong chemicals that can burn the skin. Your stylist will use protective creams or petroleum jelly to protect your hairline, the nape of your neck, your ears and the skin of your scalp. Chemical burns may require medical attention, and if they are serious they can lead to hair loss or bald patches on the scalp.
Should I Relax My Hair?
If your curl pattern limits your style and you want a more sleek straight look, then relaxing the hair is a great way to achieve this. Consider the risks associated with chemical relaxing and whether or not you want to put your hair and scalp through the process.
Related Reading: How to Grow Your Edges Back
Will My Hair Be Damaged?
"Damage occurs when the formula is too harsh or processing takes too long, and it can cause permanent damage, breakage and hair loss," said Amy. "Damaged hair looks dry, lifeless and frizzy. Chemical damage makes hair more prone to environmental, thermal styling equipment and styling product damage."
Your stylist works hard to prevent breakage, but part of the relaxing process is to break the bonds of the hair and reshape them, resulting in protein loss, which is why relaxed hair is more prone to breakage. Broken hair is especially common around the hairline where the natural hair is a bit more delicate. Even when expert precautions have been taken to protect your hair, it is still important to treat your relaxed hair strands with the utmost care.
What Will My Hair Need After My Relaxing Service?
Once the bonds in your hair have been broken, the hair needs specialized care. Amy provided some tips on aftercare for hair that's been treated with chemical straighteners:
Wash, deep condition and wet set your relaxed hair once a week. Use a mild shampoo formulated without sulfates that helps preserve the natural oils.
Apply essential oils such as comfrey, peppermint, tea tree and horsetail on your scalp after every chemical service to boost the health of your hair and scalp.
Sleep with a satin scarf or pillowcase to protect the hair while you sleep.
Amy also recommended heat protection sprays before blow drying or heat styling with flat irons, pressing combs or curling irons. For shampooing and conditioning, you can't go wrong with GRO+ Advanced Replenishing Shampoo and Conditioner, which provides the protein and extra moisture support that relaxed hair needs.

Use a scalp detoxifying serum to keep the scalp healthy, rid the scalp of chemicals and protect the scalp and hair from free radicals and pollution from the environment.
Related Reading: When It Comes to Hair Loss Due to Stress, Black Women Are Among the Most Vulnerable
Getting Your Chemical Relaxer Service at the Salon
Breaking the bonds in a hair shaft can be technically difficult for a non-professional. A trained stylist is the best person for this job, even though it may be tempting to save money and do the process at home.
Begin your relaxing service with a thorough consultation with your stylist. They may trim away damaged or split ends prior to your relaxing service. The service should take a few hours and conclude with some styling tips to help you manage your new look. Schedule follow-up appointments for deep conditioning treatments and to re-shape the hair as needed.
Natural Products for Natural Hair
Relaxed hair doesn't have to be brittle and riddled with hair breakage. VEGAMOUR'S GRO+ Advanced Replenishing Shampoo and Conditioner duo bathes your relaxed hair with pampering all-natural care and helps avoid some of the breakage and thinning that can occur with this chemical service. This shampoo and conditioning pair is an easy and pleasant way to nurture your hair and scalp, encourage new growth and maintain that delicate post-relaxer moisture balance.
More From VEGAMOUR
Photo credit: Lona Studio/iStock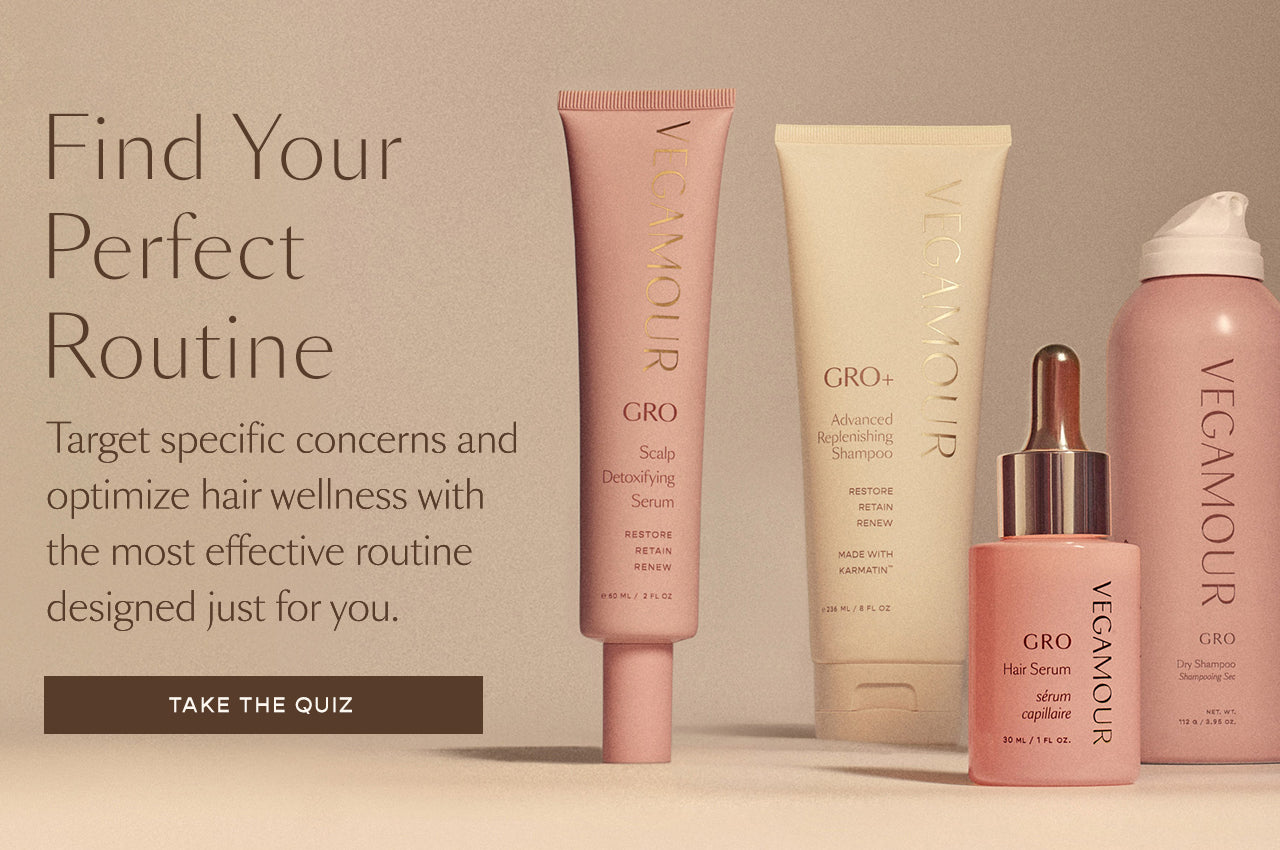 Disclaimer: Information in this article is intended for general informational and entertainment purposes only. It is not intended to constitute medical advice, diagnosis, or treatment. Always seek professional medical advice from your physician.