How to Get Glitter Out of Hair
Whether it's Halloween, New Year's Eve, Mardi Gras or a theme party, you might find yourself wanting to accentuate your hair with glitter. While you're out being festive, it's a fantastic look and vibe, but what about when the day is done and you're ready to hit the hay? The last thing you want to do is go to bed with glitter still in your hair. You'll be finding it everywhere for days, weeks or even maybe months!
Read on to learn how to safely remove glitter from your hair, as well as the best products for nourishing your hair naturally.
Here's How Long Glitter Stays in Your Hair
While glitter is not meant to stay in the hair for more than a day or so, there are a few factors that will determine how long it stays put. "The duration of glitter staying on your hair depends on factors such as the type of glitter and the hair texture," explained hair expert Alice Rawling. "Typically, it can stay for about one to three days."
It's not likely that you'd want to sleep with glitter in your hair for days on end, but it's good to know there are ways to have it stay put if you're wearing it for an event. "Using hairspray on the hair roots and then applying glitter can make it last in the hair," said Rawling.
Related: How Long Does Hair Dye Last? Plus, 5 Tips to Make It Last Longer
How to Prevent Glitter From Sticking to Your Hair
While you might not want glitter to fall out of your hair immediately after applying it, the truth is you don't want it to stick around forever. Leaving glitter in your hair — especially if it's mixed with hair gel or hairspray — can harm your scalp, follicles and hair strands. To make sure the glitter washes out easily, Rawling said to avoid glitter made with denatured alcohol, polyvinyl, and parabens.
"Avoid glitter which contains [these] substances, which make the glitter stick more in the hair," she said. "If you don't want the glitter to stick in your hair for as long, you'll [also] want to avoid things that will make it stick to the strands longer, like hairspray or hair gel."
Now that you know how to safely apply glitter to your hair and how to make it stay, you might be wondering how to get it out quickly and effectively.
How to Safely Remove Glitter From Hair
When it comes to the removal process, it might seem like the first thing you want to do is jump into the shower, but you might not want to clog your drain with glitter's tiny particles. Rawling explained that the first thing you want to do is shake glitter out of your hair using your fingers. By bending over and moving your fingers in an up-and-down motion, you can shake some of the glitter out first.
Next up, brush as much glitter out of dry hair as you can with a fine-bristled brush, like a boar bristle brush. This would best be done outside or somewhere where you can sweep the glitter up easily.
Next, consider a hair soak. "To safely remove glitter from your hair, use a natural oil such as olive oil or coconut oil," said Rawling. "Soak the hair in oil for about 15 minutes and use warm water to wash and rinse hair. Gently massage the scalp to loosen flakes and remove the [excess] glitter."
You can also use baby oil if you have that handy. Run your fingers across your scalp in small circular motions to loosen up the glitter particles on your skin.
After you've removed all the glitter you can with just your hands, wash your hair as you normally would. If you can still feel the glitter on your scalp, try shampooing twice. Since your hair has just been stressed with hairspray or gel, you might want to use a hydrating shampoo to impart moisture.
A few techniques you might want to avoid to remove glitter are using scotch tape or a lint roller as these could damage your hair strands.
VEGAMOUR's HYDR-8 Hydrate & Repair Shampoo and Conditioner can help get your hair back on track after all the glitter is removed. This all-natural, vegan, color-safe duo is perfect for all hair types and will cleanse and hydrate hair without stripping it of its protective oils or drying it out. This duo is enhanced with Karmatin™ (the first-of-its-kind vegan keratin) as well as aloe vera, magnolia bark extract, marula oil and murumuru seed butter to condition and hydrate the hair.

Related: How Often Should You Brush Your Hair?
How to Deal with Product Buildup
Depending on the kind of glitter spray or loose craft glitter you're using, there could be product buildup on the scalp and hair strands. There are a few ways to rinse that off naturally, explained Rawling.
"To remove product buildup from your hair, use baking soda with shampoo to wash your hair and then rinse it,"' she said. "You can also rub the baking soda into your wet hair and scalp to remove product buildup."
Nourish Your Hair Naturally
After using glitter on your hair, it's important to nourish those strands to keep them healthy and hydrated, especially if you've used a glitter spray that contains harsher alcohols which are very drying to the hair.
If hair is extra dry, you can pair your shampoo and conditioner with VEGAMOUR's HYDR-8 Deep Moisture Repair Mask containing Karmatin™, marula oil, milk thistle and moringa oil for an extra boost of hydration. This will give hair an extra kick of moisture, which can help it bounce back after it's been exposed to hairspray, gel or other products containing alcohol or harsh chemicals.
"You can repair hair damage after glitter removal by using natural oils such as olive oil to rehydrate the hair and smooth the cuticle," said Rawling. "Olive oil is a great option to moisturize, soften and replenish the hair. Jojoba oil also helps to strengthen and hydrate the hair." Other nourishing oils like coconut oil, marula oil or sweet almond oil can work too.
Read More: These Are the Benefits of Almond Oil for Hair
The Post-Glitter Glow Up
If you find yourself using glitter for costume or celebratory purposes, you want to make sure that you remove glitter safely and effectively from the hair. You want to avoid getting glitter all over your house, in your bedding or stuck in your drain. Remember to remove as much glitter as possible from your dry hair first. This should be done outside or somewhere you can easily sweep it up. After shaking the glitter out, try brushing more of it out before soaking and washing your hair to remove every last particle.
Be sure to use all-natural nourishing, hydrating products for your hair, which can be temporarily damaged by glitter spray, aerosol hairspray, hair gel or other harsh ingredients that might be combined with the glitter. This way you can still rock that glittery sparkle without doing any long-term damage to your hair.
More From VEGAMOUR
Photo credit: golubovy/iStock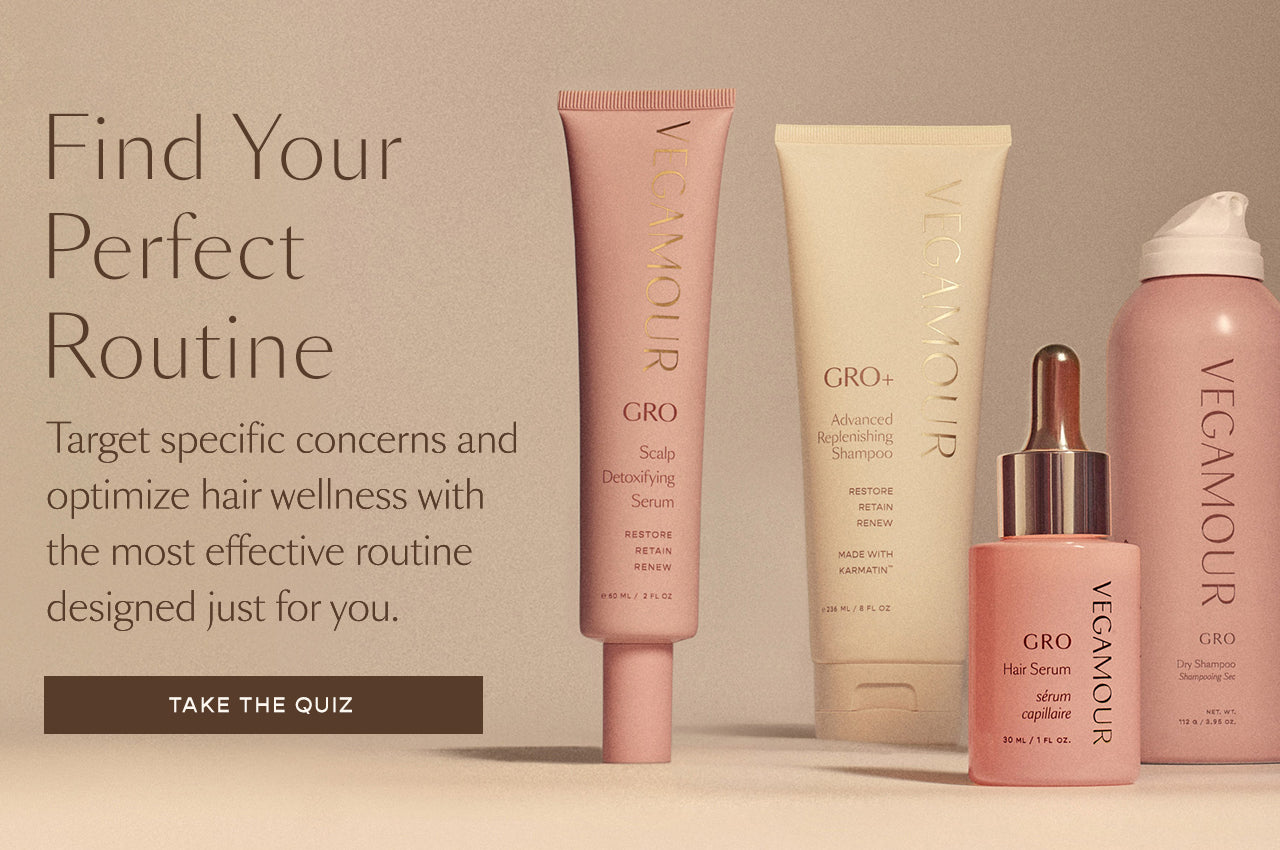 Disclaimer: Information in this article is intended for general informational and entertainment purposes only. It is not intended to constitute medical advice, diagnosis, or treatment. Always seek professional medical advice from your physician.