7 Lovely Hairstyles for Valentine's Day
Love is in the air — and soon, in your hair! Looking for an excuse to "tress" up that same-old messy bun or days-old hair? Valentine's Day is fast approaching and there's no better time to inject a romantic vibe into your overall look.
Read on to discover the best Valentine's day hairstyles to match any occasion and outfit, along with the products you should be using to support healthy hair.
Valentine's Day Hairstyles
Celebrating the day of love is a prime opportunity to look special, whether your Valentine's Day plans include a date night with your significant other or celebrating with your favorite Galentine besties.
No matter if you have long hair, short hair (in which case, you can always opt for temporary hair extensions), fine hair or thick hair, wherever you're headed this Valentine's Day, you want to look your loveliest. Below, here are the best special occasion hairstyles to wear this Valentine's Day — and beyond!
Read More: 4 "Clean Girl" Aesthetic Hair Trends
Look #1: Romantic Flat Iron Waves
If you have straight or fine hair, you can create gentle curls using a straightening iron rather than a curling wand. Bonus tip: Romantic waves look great with everything from a fancy dress to more casual clothes, making them a perfect fit for anything on your Valentine's Day agenda.
Get the look: "I like to use a flat iron to control the waves because it gives you more versatility than a standard one- or two-inch curling iron," said New York City hairstylist Jasmine Anna Galazka. "The vibe is nice, loose, sexy, voluminous waves for your Valentine's day plans."
Look #2: Sleek Ponytail
Go the ultra-polished, sleek-chic route for a night out when you want your dress and statement earrings to get all the attention. Opt for a satin-smooth high or low ponytail that spotlights your facial features, accessories and look-at-me dress — all the while showcasing healthy, lustrous locks.
Get the look: Amp up the smoothness and shine by taming any stray baby hairs — particularly around the crown — with Pure Marula Oil. You can also work the oil throughout the length of your pony for a super on-trend glass-like sheen. The multi-tasking oil works to control and tame stray strands. Plus, it can be used to moisturize and add shine to your nails and skin, too!
Better yet, prep your hair using HYDR-8 Shampoo, Conditioner and Mask to infuse it with silky, glass-like radiance and intense moisture that lasts!

Look #3: Half-Back Texture With a Few Face-Framing Pieces
Softly textured strands worn half back are another versatile style. The pretty look works equally as well with a casual outfit as it does with a more sophisticated ensemble. 
Get the look: Add extra volume and instant texture with mousse-like GRO Hair Foam. Massage the quick-drying hair foam throughout the hair to amplify body. Then, gather and twist strands into a half-back style, securing with bobby pins. Finally, pull out a few face-framing pieces for a wispy, flirty finish.

Look #4: Heatless Curls
If your natural hair is already textured, you can get this style with minimal effort. A head full of romantic curls is a timeless classic, perfect for anything on the Valentine's Day agenda.
Get the look: Opt for a satin roller method or even low pigtails worn in braids overnight to cultivate texture. These techniques allow you to create a pretty, soft curl effect without the time, energy and potential heat damage from using hot tools.
Look #5: Low Bun, Braid or Ponytail
Planning on heading from your desk to a date and in a time crunch? Any of these minimalist-chic styles transition easily from day to night. Plus, they work equally as well on second or even third-day hair when styled using a texturing, refreshing dry shampoo! 
Get the look: Mist on GRO Dry Shampoo to breathe new life into your locks in between washes. Best of all, it's formulated without benzene and without talc, so you can refresh days-old hair without compromising its integrity. Here's how to get the perfect messy low hairstyle:
After applying GRO Dry Shampoo to the roots and mid-lengths of your hair, gently gather it at the nape of your neck. 
For a low bun, gently twist and wrap the length around the base and secure with non-abrasive, soft bamboo hair ties. These gentle hair ties are also great for tying back a low pony. 
If you're going for braids, do another final dry shampoo mist after braiding your hair to enhance texture and add subtle volume.

Read More: How to Do a Messy Bun With Thin Hair
Look #6: Polished, Pretty Updo
If your evening agenda is calling for a classic, chic and ultra-sophisticated dress, you can't go wrong with a sleek-as-satin updo. Another updo perk: Your polished hair puts the focus on your face and smile!
Get the look: Smooth strands by brushing them back. Then, begin to wrap the hair back, moving away from the head into a chignon or other shape. Secure with bobby pins or a sparkly clip.
Look #7: Fun, Flirty Braids
For a girl's night with your Galentines or Valentine's date night at a sporting event, go with fun, flirty braids! Choose from an intricate French braid, braided pigtails or more relaxed loose braids.
Get the look: Boost body and texture pre-styling with hair foam or dry shampoo, then begin to braid hair into the desired style. For extra Valentine's Day flair, add hair accessories such as red and pink hair ties and barrettes. Or, weave a pretty bow throughout the braids to add a pop of color to your style.
Read More: 33 Protective Styles for Natural Hair
Treat Your Hair With TLC
Celebrate the day of love with your loved ones — and don't forget to celebrate yourself, too! Give yourself the gift of self-care by taking the time to do something different with your hair. If you always wear your hair up in a ponytail, put a little extra effort into styling it so you can wear it down. Changing up your hairstyle can completely change your mood in an instant, which can help set the tone for the rest of your romantic evening. By incorporating clean hair products into your daily routine, you can help encourage your hair on its path to total tress-to-toe wellness.
MORE From VEGAMOUR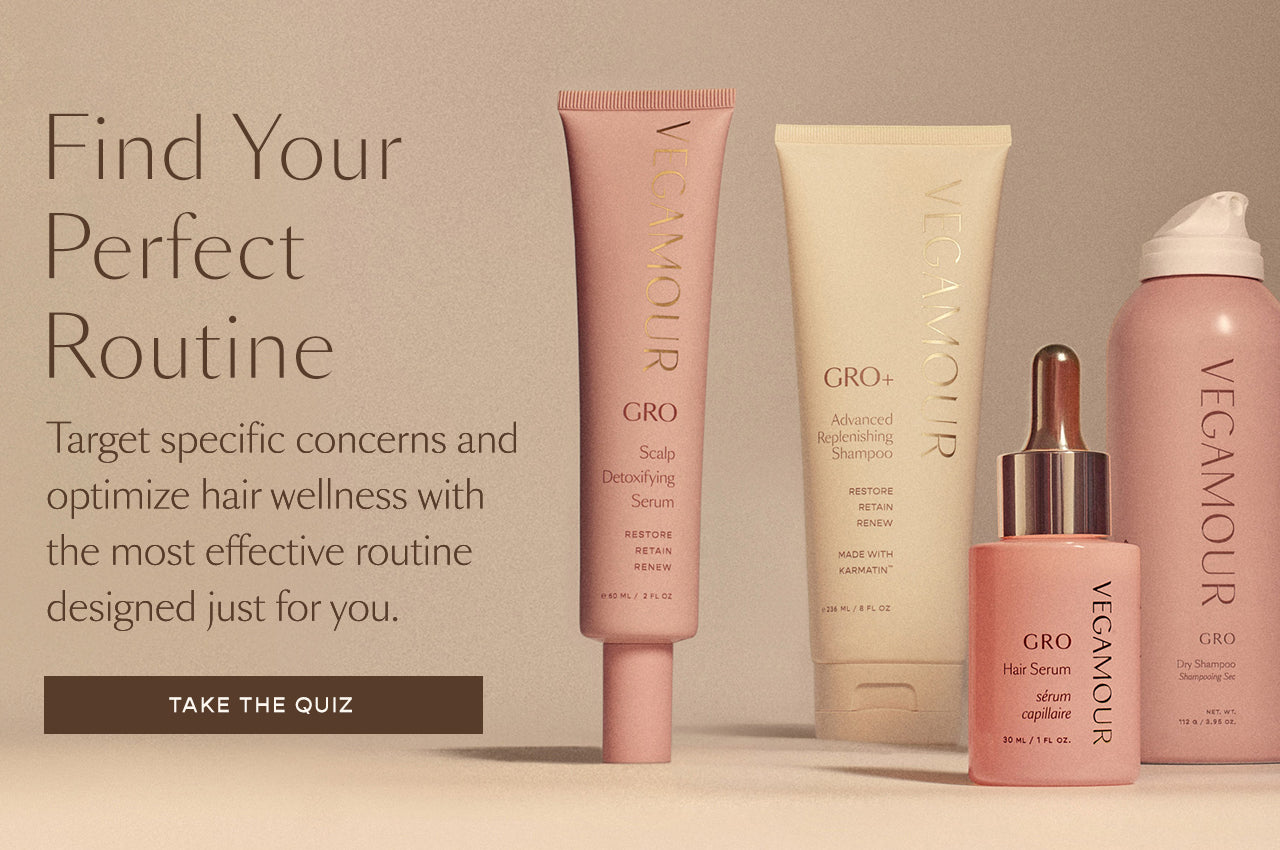 Disclaimer: Information in this article is intended for general informational and entertainment purposes only. It is not intended to constitute medical advice, diagnosis, or treatment. Always seek professional medical advice from your physician.