What Is the Best Dry Shampoo? Here's Your Answer
Forget about the diamonds — dry shampoo is a girl's best friend. Sure, there's nothing like that feeling of freshly-washed hair, but lathering up each day isn't always possible. And, depending on your hair type, shampooing each day might not actually be ideal.
Enter the waterless wonder that is dry shampoo. Read on to learn more about the benefits of this beauty staple, along with what to look for and what to avoid. Plus, discover the best toxin-free dry shampoo you should start using to refresh and revive your hair.
The Perks of Using Dry Shampoo
There are so many reasons to use dry shampoo. At the gym or on a trip? Freshen up fast with dry shampoo! Just got a blowout and want to keep its volume and texture? Make it last longer with a few spritzes. Simply don't have the time or energy to do a full lather, rinse and repeat? Dry shampoo is your clean hair savior to soothe your scalp and strands in-between washes.
Fortunately, thanks to dry shampoo's waterless factor, you can have a good hair day anywhere, without necessarily having to make it a hair wash day. That's why dry shampoo is a "mane" must-have in any styling routine!
What Is the Best Dry Shampoo?
Now that you're convinced dry shampoo is a tress necessity, you're likely wondering which is the best one for you. Finding the right dry shampoo — especially with all the options out there — starts with selecting one that suits the unique needs of your hair.
Ready to get started in your search? Here's the answer: Go with a clean, plant-powered formula that taps into the nourishing properties of nature! A 100% vegan dry shampoo such as GRO Dry Shampoo allows you to nix all the things you want to eliminate (debris, excess oil, sweat, greasy hair and more) all without compromising your scalp or hair health. 
Reset, Refresh and Renew With GRO Dry Shampoo
Best of all, GRO Dry Shampoo is completely plant-based and free from harmful hormones or toxins that might be found in other formulations. Celebrity stylist Ashley Streicher claims "The GRO Dry Shampoo is great for anyone looking for clean ingredients and clean-feeling hair, without the hassle of washing. I like to lift the hair and spray 12 inches or so away from the roots, so the spray can cover a large area. I then go through and gently massage with fingers to help distribute the product."
The volumizing dry shampoo is also formulated without talc or benzene and entirely plant-based. Plus, it's made using the same propriety blend of phyto-active ingredients such as mung bean, red clover and kaolin clay found in GRO Hair Serum. The gentle, lightweight spray was designed to help balance the scalp and support a healthy hair ecosystem.

Dry Shampoo 101: Do's and Don'ts
Dry shampoo is essential, allowing you to fast-track your way to freshened-up hair with a few quicks mists. However, there are certain things to consider when choosing a dry shampoo, especially when it comes to keeping your overall scalp and hair wellness in mind.
Read on for a rundown on the ingredient dos and don'ts you want to watch out for when selecting the dry shampoo that's perfect for you.
DO: Choose a Natural, Safe and Effective Clean Formula
The voluminous GRO Dry Shampoo has a do-it-all formula that offers up the best of everything — it has the same texturizing properties as a traditional dry shampoo, without clogging your scalp and leaving your skin irritated or itchy. Plus, USDA organic rice hulls included in the dry shampoo absorb any excess oils, sweat and odors, reviving and refreshing so that your hair looks and feels fresh.
DON'T: Forget to Take Hair Type, Texture and Color Into Consideration
Dry shampoo works differently, depending not only upon ingredients, but how it's used and on what hair types, textures and hair colors it is used.
Color-treated hair or dark hair, for example, might experience telltale white residue after using dry shampoo.
Light hair or fine hair can feel weighed down if using too much dry shampoo.
Sensitive scalps or thin hair might experience additional irritation from a loose powder formula that relies heavily on thickening agents or harsh ingredients.
Oily hair might require a dry shampoo designed for enhanced oil absorption, while thick hair could benefit from a hydrating formula that adds extra conditioning and moisture. In this case, you might want to consider a weekly detoxifying treatment, including an apple cider vinegar rinse for the hair and a scalp detoxifying treatment.

DO: Alternate Hair Wash Days
Certain hair types can also be better off with hair that's slightly less clean, saving strands from the potential damage that comes along with over-washing it and/or using water or heat-styling tools that are too hot. Plus, some hair pros even recommend extending the time between wash days to maintain balance and keep your hair healthy.
"If you have dry hair I suggest washing hair less frequently," said stylist Angel Mendez of Salon Yoshiko at Bergdorf Goodman. "Washing about every other to every three days allows the natural oils to naturally condition the hair."
Read: How Often Should You Really Be Washing Your Hair?
DON'T: Go Overboard With Product
According to the Cleveland Clinic, there are some types of dry shampoos that remove product buildup but also might accumulate over time, leading to scalp irritation or issues.
That's exactly why you should be looking to breathe new life into your hair with a dry shampoo that utilizes safe, clean, plant-based ingredients such as essential oils and phyto-actives.
DO: Use Dry Shampoo Correctly
GRO Dry Shampoo is safe for any and all natural hair types, including fine hair, color-treated hair and thicker strands. Plus, it won't leave behind those telltale white marks on dark hair. The even, effective distribution of the spray ensures that each and every strand will reap the full benefits. Finally, the subtle, all-natural bergamot scent is light and fresh, unlike strong synthetic fragrances.
To use:
Hold GRO Dry Shampoo four to six inches away from the hair and spray it directly at the roots.
Massage the dry shampoo directly into your roots.
Style your hair as desired.
For extra volume, try flipping your head upside down while massaging the dry shampoo into your hair to enhance body.
Maximize your hair wellness routine by using GRO Dry Shampoo on those days in between hair washes or anytime you want a little extra refresher.
The Best Way to Get to the Root of Hair Wellness
Ditch the ingredients you can't pronounce or trust in favor of safe, effective, plant-based formulas with clean ingredients you can count on! VEGAMOUR products contain no known toxins and are scientifically proven to get results — all without using harsh, harmful, damaging ingredients.
With an intrinsic, 360° approach to hair wellness (no chemical-induced quick fixes!), cruelty-free, 100% vegan and completely plant-based GRO Dry Shampoo is just what you need to integrate into your regular hair wellness routine to keep your hair and scalp in peak condition!
More From VEGAMOUR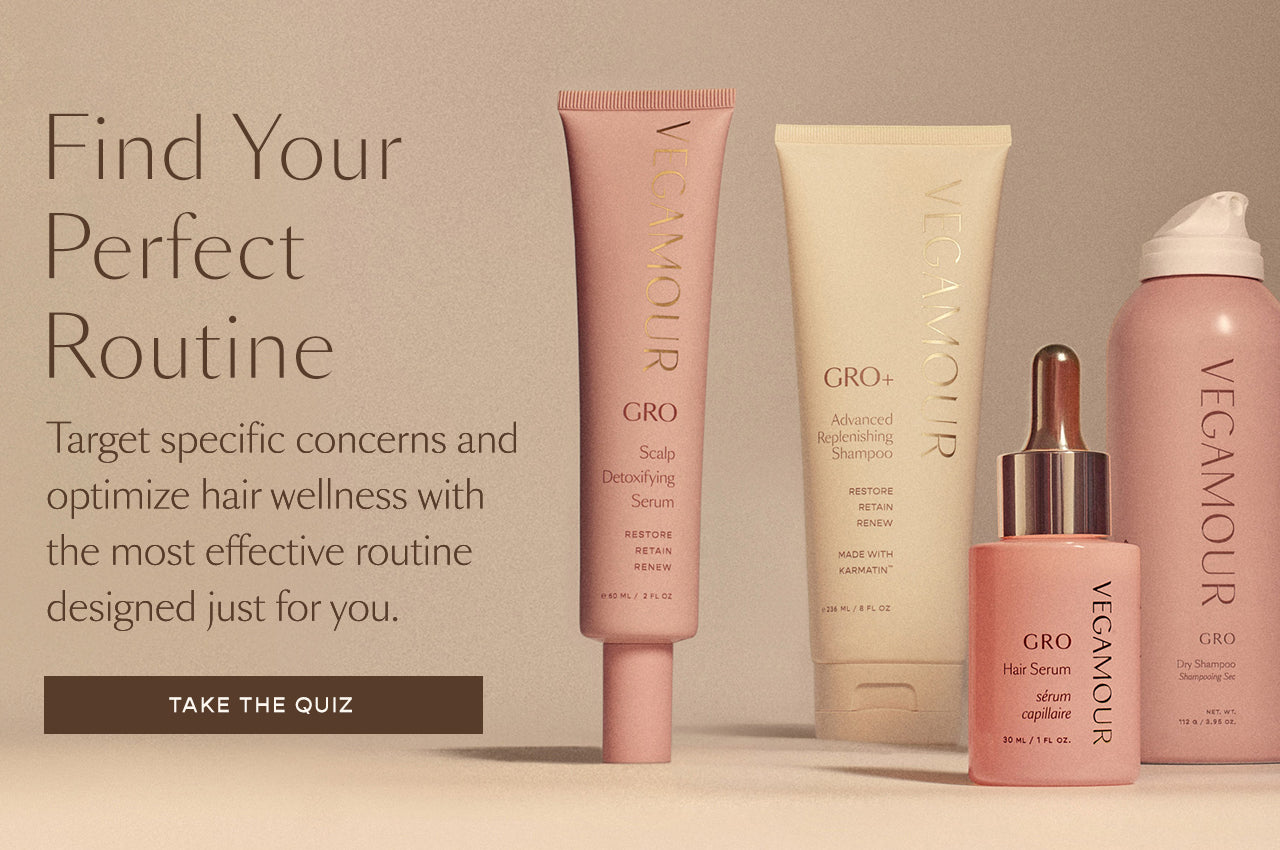 Disclaimer: Information in this article is intended for general informational and entertainment purposes only. It is not intended to constitute medical advice, diagnosis, or treatment. Always seek professional medical advice from your physician.