Why Does My Hair Tangle So Easily?
Tangled hair can be uncomfortable at best and painful at its worst. Plus, when your hair is tangled up in knots, it can make you feel self-conscious and potentially lead to split ends or further hair breakage.
Read on to learn what's causing tangled hair, along with how you can prime your hair to prevent tangles before they start. Plus, discover what all-natural conditioners you should be using for tangle-free hair.
How Tangled Hair Happens
At some point, it's likely you've experienced the frustration of spending your time and energy working on detangling knotted hair. But why do tangles happen?
No matter the length, or whether you have straight, wavy or curly hair, tangles can — and do — happen to all hair types and textures.
When hair cuticles are healthy and lie flat and smooth, hair strands won't snag on one another. However, if your hair cuticles do not lie flat, such as from damage or other actions that rough them up, it can result in your hair strands becoming snagged and tangled.
Common Reasons for Tangled Hair
Read on for some common reasons why your hair cuticle might become roughed up or damaged, which can result in tangles.
Overexposure to hot tools, the sun or chemical processes such as bleaching. These types of exposure can damage the underneath layers of the hair, causing them to tangle, break or result in split ends.
High-porosity hair (which is common for bleached hair) is often damaged and dry, which can cause hair to tangle — especially if your hair is curly.
Shoulder-length or longer lengths have a greater chance of becoming tangled.
Weathering the elements (think windy days or cold temperatures requiring a hat) can leave your hair tangled up in knots.
Wearing abrasive clothing or jewelry that can cling to your hair can cause it to knot.
Dry hair is lacking in moisture, making it more vulnerable to intertwining, leading to knots.
Abrasion and friction from pillowcases and bedding linens can also result in tangles.
Finally, according to New York City hairstylist Jasmine Anna Galazka, simply not using the right styling products and techniques can also lead to tangles or matting, especially if you wear hair extensions or have thicker or curly hair.
Read: What's Your Hair Texture & Type? Here's How to Find Out
How to Prime Your Hair to Prevent Tangles
Fortunately, you can prevent tangles by priming your hair properly. Here's how.
1. Start in the Shower
"Start with a good conditioner to hydrate the hair," said Jay Jackson, lead stylist and manager at NV Salon and Spa. "This allows you to seal the hair with necessary moisture and hydration."
Recalibrate your hair with GRO Revitalizing Conditioner which utilizes powerful plant-based, phyto-active ingredients to tap into nature's healing properties! Think of it as a vegan-friendly alternative to keratin. Proprietary Karmatin™️ microencapsulated vegan b-SILK™️ protein nourishes and restores damaged hair follicles, bonding to the hair shaft and remaining attached even after rinsing. The result is satin-smooth, tangle-free hair that lasts until the next time you wash your hair. It's safe for daily use on any hair type and won't strip the natural moisturizing oils from your scalp or hair.
2. Rethink Your Routine
Another idea for the shower: Swap out the warm or hot water in favor of cool or cold water, at least when it comes to your head (you can keep the water temperature warmer for your body). The reason? A cool water rinse of your hair coupled with the conditioner finalizes the sealant effect, smoothing down the hair cuticles with radiant shine.
3. Take Extra Care With Wet Hair
If you're wondering whether you should use a comb or brush on your wet hair, wet hair is at its most vulnerable state, so save the detangling brushes for when your hair is dry! Instead, use a wide tooth comb on wet hair to evenly distribute conditioner while in the shower.
Or, for deeper conditioning, you can opt to disperse conditioner (tip: add a few drops of coconut oil for added hydration) throughout damp hair, wrap it in a towel and leave it on for about 30 minutes. Once you've rinsed your hair with cool water, gently blot it to remove excess water and use a wide-tooth comb to detangle it.
4. Be Mindful When You Brush Your Hair
When your hair isn't wet or damp, it's fine to use a brush to remove tangles, such as when you wake up or before you wash your hair. "Using a natural bristle brush helps get into any tangles or matting," said Galazka. "This will break up any knots starting in the crown while moving down keeps things smooth."
Gently brush from roots to ends, working in downward strokes to keep the hair cuticle smooth and knot-free.
5. Take Care When Styling Your Hair
If you must use hot tools, take that same gentle, downward action approach to your blow dryer. Always begin your blowout at the top of the head, drying hair in a downward motion to avoid roughing up or abrasion to the hair cuticle, according to Galazka.
6. Get Your Beauty Rest
Multitask while you're sleeping to wake up with beautiful, tangle-free hair. Swap your standard pillowcase for a vegan satin pillowcase to preserve smoothness. This will help protect your hair from unnecessary friction, frizz, flyaways and abrasion that can create tangles. Braiding your hair before bed can also help in preventing tangles. Bonus: In the morning, unravel perfectly-imperfect waves, no heat styling required!
7. Maximize Moisture
Elevate your sleep wellness routine with pure marula oil. Apply a small amount to your ends or around the hairline to control strands as you sleep. Powered by antioxidants, omega fatty acids and oleic acid, this naturally nourishing oil can also be used to moisturize cuticles, nails and skin.
8. Get Regular Trims
Finally, it's important to see your stylist on a regular basis. "Get frequent trims so you can get rid of any split ends that occur, said Jackson. "It's important for optimal hair health, including preventing tangles."
Keep Your Hair Healthy With a Holistic Approach
Taking the time to focus on mindful self-care rituals is a great way to set yourself up for tangle-free tress success! Maintain a healthy lifestyle with a focus on holistic care for overall well-being. Exercise regularly, eat well, stay hydrated and include clean ingredients in your day-to-day routine.
Pamper and protect your hair from tangles with VEGAMOUR's natural hair care products, which are always free from sulfates, silicones, parabens, phthalates, GMOs, mineral oils, gluten and synthetic fragrance. Help encourage naturally, well-nourished hair that is as strong on the inside as it is smooth and knot-free on the outside!
MORE From VEGAMOUR
Photo credit: burakkarademir/iStock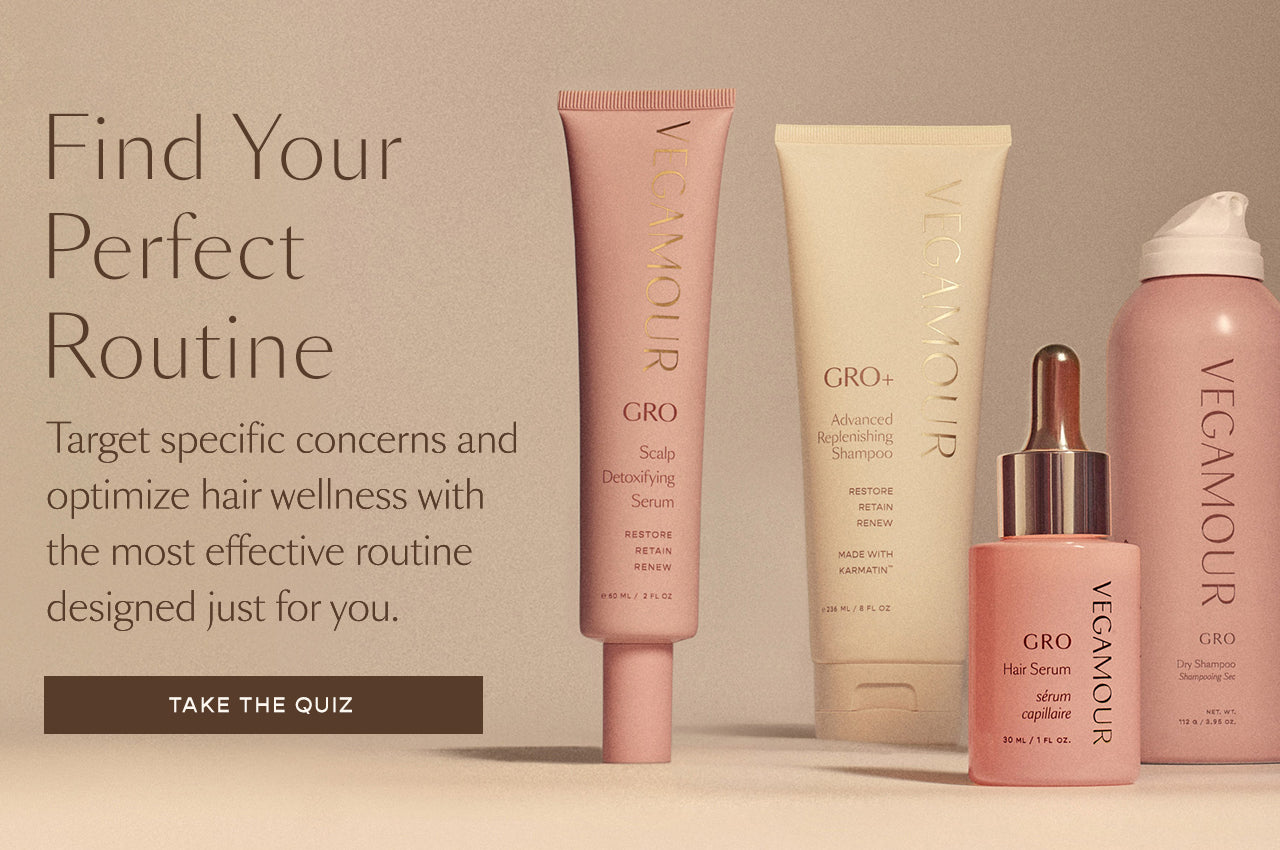 Disclaimer: Information in this article is intended for general informational and entertainment purposes only. It is not intended to constitute medical advice, diagnosis, or treatment. Always seek professional medical advice from your physician.