Is Hibiscus Good for Hair Growth?
Modern science continues to give us new medical solutions, but mother nature provides us with creative and often beautiful remedies. The hibiscus is a flowering plant that makes a tasty cup of tea and is believed to come with a host of wellness attributes.
Native to India and Malaysia, hibiscus has thick red stems and stunning yellow flowers. The seeds, flowers, stems and leaves are all used in cosmetics and for culinary and medicinal purposes, but what can this wonder plant do for your hair? To better understand the benefits of hibiscus, VEGAMOUR spoke to an expert and looked at the research. Plus, discover the all-natural products that keep hair color vibrant and glossy.
Hibiscus Benefits for Hair
From dandruff to hair regrowth, the benefits of hibiscus are believed to be wide and varied. Using hibiscus leaves and flowers isn't a new trend; the petals and flowers have been included in Indian Ayurvedic practices for centuries to treat illnesses and combat hair thinning.
Fresh hibiscus flowers contain many beneficial ingredients that help prevent bald patches and hair loss. "The hibiscus flower contains high levels of vitamin C, which is essential for collagen production and hair growth," said dermatologist Dr. Hari Kiran Cheruki. "Hibiscus also has anti-inflammatory and antioxidant properties, which can help to improve scalp health and promote hair growth."
Chinese hibiscus, aka hibiscus rosa-sinensis, grew in popularity after one study indicated that hibiscus leaf extract positively impacted hair follicles and potentially helped hair strands grow. However, these studies were inconclusive and the findings are anecdotal, as more research needs to take place on human hair.
"Hibiscus can be used in a variety of ways to promote hair growth," said Dr. Cheruki. "The most common way to use hibiscus for hair growth is to make tea by boiling the dried flowers in water. This tea can be used as a rinse after shampooing and conditioning your hair. Hibiscus can also be added to shampoo and conditioner or used as a hot oil treatment."
Proponents of hibiscus claim that the plant can:
Reduce hair fall
Combat hair thinning spots
Halt grey hair
Act as a natural conditioner
Treat dandruff
Prevent hair breakage
Nourish the scalp and hair
However, these claims aren't backed by scientific clinical research or the Food and Drug Administration (FDA). It's also worth noting that drinking hibiscus tea can decrease blood sugar levels, so always check in with your primary caregiver before starting a new routine. Raw hibiscus petals contain carbohydrates, calcium, potassium, vitamin C and B vitamins, but hibiscus tea tends to be lower in nutrients. Anyone living with allergies to pollen or plants might want to avoid hibiscus rosa-sinensis remedies. 
The GRO Hair Serum is plant-based and clinically tested if you're looking for an all-natural solution to help boost hair health. The vegan-phyto-actives in the formula support a healthy follicular system, while the non-greasy serum soothes the scalp and helps revitalize hair follicle cells. Use it morning and night to increase the appearance of hair density and reduce the signs of hair shedding.

Read More: These 10 Herbs Might Help With Hair Loss
Does Hibiscus Combat Grays?
Ayurvedic and scientific practices allude to the idea that hibiscus antioxidants, vitamins and natural pigment all act as a natural hair dye to help mask gray hairs. "Hibiscus is also effective for preventing graying hair and restoring natural hair color," Dr. Cheruki confirmed. "The flower contains high levels of anthocyanins, which are responsible for plants' red, purple and blue pigments. When these pigments are applied to the hair, they can help to restore hair color and prevent graying."
The brightly hued hibiscus flowers are dense with nutrients and amino acids that potentially keep natural pigments in the hair vibrant. The vitamins and antioxidants are also believed to influence melanin synthesis, which could help give hair a glossy shine.
Read More: How to Stop Gray Hair Naturally
How to Use Hibiscus in Your Hair Care Routine
The hibiscus leaves and flowers have many potential benefits for the hair. Here are some ways to indulge in the natural remedy.
For Hair Growth
In India, it's believed that the amino acids, flavonoids and antioxidants in the hibiscus plant and flowers revive hair follicles. A hibiscus oil could help awaken dormant hair follicles. Here's how to make your own hibiscus oil for hair:
Take a handful of hibiscus flowers and leaves and grind them down into a paste.
Heat a cup of coconut oil or almond oil and stir the paste into it.
Boil the mixture for a couple of minutes.
Take off the heat and pour it into a heat-proof container to cool.
Filter the oil or keep it as it is.
Massage the hair roots and the scalp with the oil and use a scalp massager to maximize the results.
Leave the hibiscus oil on the hair for 30 minutes and rinse. Or, leave it on overnight and wash it the next day with a mild shampoo.
For Bald Spots
The combination of the oil and the massaging motion is believed to stimulate dormant follicles and increase blood circulation. More human-based tests need to take place before the west considers hibiscus a bonafide hair remedy.
A hibiscus hair mask is also considered a natural and effective way to tackle serious hair problems such as balding or alopecia. According to Ayurvedic medicine, a hair pack made from hibiscus leaves and flowers will kickstart regrowth. To see for yourself, try this DIY hibiscus hair mask recipe:
Grind approximately 8-10 leaves and flowers to make a smooth paste.
Apply the hibiscus hair pack to the affected area and leave for up to two hours.
Rinse the mask off.
Repeat the process once or twice a week for the best results.
Read: How to Do a Green Tea Hair Rinse at Home
For Gray Hair
A natural hibiscus powder hair mask made from flowers and leaves could help prevent graying. If you want to halt your grays, try this hair mask recipe:
Take three hibiscus flowers and leaves and mix them with amla powder.
Grind the mixture together into a paste.
Apply the mixture to the hair and scalp.
Leave on for an hour and rinse with a soothing conditioner.
If you want to keep hair vibrant, strong and shiny, you could also mix the flowers and leaves with coconut milk or fresh aloe vera gel to help repair existing damage.
To reduce the appearance of gray hair on new hair growth, use the GRO AGELESS Anti-Gray Hair Serum. The plant-based formula helps renew hair color while soothing and nourishing the skin. Caffeine, fo-ti, B vitamins, peptides and glycoproteins work together to enhance shine and mitigate grays in just 90 days.
For Dandruff and an Itchy Scalp
Practitioners of herbal remedies recommend using hibiscus as part of a weekly routine to tackle dandruff. They recommend the following protocol:
Combine one tablespoon of ground hibiscus leaves with approximately one tablespoon of neem juice. You could also use fenugreek seeds and 1/4 buttermilk.
Apply the mixture to your scalp and gently massage.
Leave in place for about one hour.
The mixture will help keep the area cool, clean and moisturized. Rinse off with a mild shampoo to avoid any irritation.
Read More: Are Dandruff and Dry Scalp the Same Thing?
Natural Products With Proven Results
If you're looking to add hibiscus to your hair care routine, there are a few things to keep in mind. When using hibiscus for hair growth, it's important to be patient and consistent with your treatments. Hibiscus is a natural remedy that can take several weeks or months of regular use to see results. It's also important to use hibiscus in conjunction with other hair-healthy habits, such as eating a balanced diet, getting enough sleep and reducing stress.
Hibiscus has potential as a hair growth remedy. Still, if you're looking for something clinically proven to work, many of the best-selling products in the VEGAMOUR line will deliver the results you're after. From tackling graying strands to kickstarting regrowth, combine your all-natural serum of choice with a 360° hair wellness routine to keep strands shiny, strong, vibrant and long.
More from VEGAMOUR
Photo credit: Talha Riaz/Pexels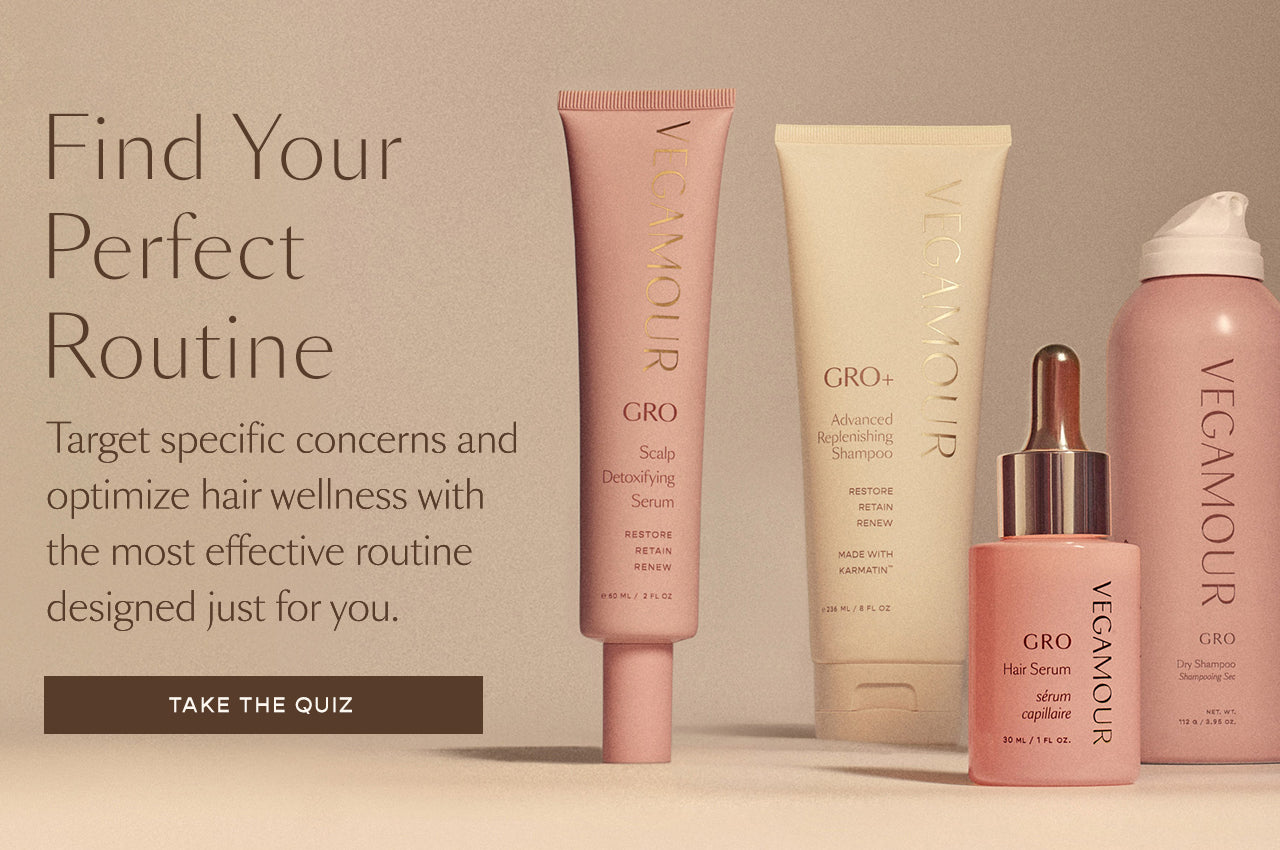 Disclaimer: Information in this article is intended for general informational and entertainment purposes only. It is not intended to constitute medical advice, diagnosis, or treatment. Always seek professional medical advice from your physician.