Going Natural? Here's How to Go Back to Your Natural Hair Color
It's totally normal to want a change when it comes to your hair color. And just like coloring your hair can offer some excitement, it can be equally exciting to make the transition back to your hair's natural tone. And although it sounds simple to just go back to natural, there's actually a process that could be complex, depending on a few factors. Read on to find out how to get back to your natural hair color without serious damage — plus, find out what color-safe products you should use to get healthier, shinier, fuller hair.
Reasons to Return to Your Natural Color
Making a decision to change your hair is highly personal. Hair expert and stylist Susie Ross explained.
"There are a variety of reasons why someone would want to go back to their natural hair color," she said. "Needing a change, missing their original hair color, wanting to give their hair a rest from chemicals, saving money, etc."
Getting your hair back to its natural shade depends on the current state of your hair as well as its health. Oftentimes, returning to your natural color takes several sessions with a colorist unless you're planning to let your hair grow out. However, hair growth happens at about a half-inch per month, so growing out your hair could take a long time, especially if you don't have short hair.
There are instances where you might choose to blend your hair back toward its natural color, like allowing roots to grow out and adding highlights to blend the color. That is a different process than simply dyeing it back to match its natural color. Blending gray hair is an increasingly popular technique for those who want to embrace the sparkle.
Shop: Kickstart Hair Wellness With the GRO Foundation Kit
Going Back to Natural: Dos and Don'ts
While salon treatments can be expensive, there are instances where you might consider the investment — especially if your goal is to return to your natural shade.
"In the salon, we use professional quality hair color products and additives with bond mending technologies that help prevent breakage that are not sold to the general public," Ross explained. "Color available to the general public is manufactured using low-quality dyes [and] extreme[ly] harsh chemicals, typically containing high amounts of ammonia, metallic salts, henna, etc."
"Would you fill your own cavity at home or go to a dentist?" asked Ross. "It's the same concept. Licensed cosmetologists go through extensive training (1600+ hours) before they can even get licensed." Ross explained that cosmetologists undergo continual education for the tenure of their careers, and many have to start out in assisting positions before they can take on their own clients. "If it was that easy to just buy something and do your own hair, we would all be out of a profession," Ross said.
While it's understandable that people's varying budgets can affect how much they can spend on hair care, it's much more expensive to color-correct hair if you make a mistake with hair dye at home.
"Most color corrections are not fixable in one day and take several sessions, meaning more money and more time spent in between giving your hair a break from chemicals, wearing lace fronts and wigs. Marketing has led people to believe dyeing your own hair is as simple as shampooing your hair, but there are many factors involved, such as the condition of the hair, [which is] your starting point."
If you're wondering about whether it's OK to use box dyes to help you get your hair back to its natural shade, experts like Lauren Holland don't advise it, "As a professional hairstylist, I strongly urge people not to DIY hair color," she said. "It should actually be avoided at all costs. A stylist can prevent damage by providing a more seamless and natural-looking transition in your hair. They will make the distinction between your natural hair and hair that has been colored and blend them seamlessly."
Returning to your original color can mark the end of a coloring journey for some, so it is smart to consider investing in a pro.
Still, if using hair dye from the drugstore is your only option, you might try using a semi-permanent dye or demi-permanent color, instead of permanent hair color. Semi- or demi-permanent hair dyes are less harsh and don't last as long if you make a mistake.
Shop: The Best Color-Safe Shampoos & Conditioners
Going Dark Brown vs. a Lighter Shade
The process of returning to your natural color will differ depending on whether you need to lighten or darken the hair. If your natural color is blonde, and you've been rocking a dark brown, then you'll need to lighten hair back toward blonde. "In lightening your hair, bleach or highlights will be used," Ross explained. Bleach is harsher on hair than color, so using a deft hand here is critical.
If you want to give your hair a rest in between sessions, you can begin to blend hair toward your natural color by using highlights. This lessens the amount of bleach needed to lighten the hair. 
If you already have bleached hair, such as a bright blonde or platinum blonde shade, your colorist won't need to use bleach.
"In darkening your hair, color will be used," Ross explained. So if your natural hair color is a darker shade than your existing hair color, you'll need to add pigment to the strands or consider letting your natural roots grow out and blend with a balayage or similar technique.
Regardless of which direction you go, coloring your hair to get back to your natural color should mark the end of a coloring chapter for your hair, at least for a little while. All things being equal, colored hair is going to naturally have more damage than hair that hasn't been dyed.
"You should wait a while before coloring your hair again," said Holland. "Once you go dark after bleaching, there's no going back without severe damage," she explained. "If you bleach your hair blonde, after darkening your locks, you will not be able to re-dye your hair dark for a very long period of time."
Related: Should I Bleach My Hair? 5 Things to Consider Before You Commit
Aftercare for Bleached or Dyed Hair
Ross explained that using deep masks before a lightening or darkening session can help maintain the integrity of the hair before any chemical use.
 "A great aftercare routine consists of deep masks once a week," she said. She also recommended a daily leave-in conditioner and a heat protectant spray used before styling tools. Also, using a low setting on styling tools and avoiding heat-styling every day can help protect stressed strands after extensive coloring.
"Use a shampoo geared toward color, and use hair oil for those ends," Ross said.
VEGAMOUR GRO Revitalizing Shampoo & Conditioner Kit is the perfect duo for hair that's been colored or bleached. Not only are both formulas color-safe, but they also contain powerful plant actives, like mung bean, curcumin and red clover, and our proprietary Karmatin™, which is a microencapsulated vegan b-SILK™ protein that bonds to strands and helps repair damaged hair.
Additionally, after washing and drying your hair, use our Pure Marula Oil to help your hair look its best. It only takes a few drops to tame flyaways and frizz and give your hair a beautiful, glossy finish.
Other hair-friendly tips include getting a haircut every two to three months on average, using a silk pillowcase and not going to bed with wet hair.
See: 12 Ways to Use Marula Oil in Your Beauty Routine
Takeaway
Remember that hair color journeys are individual for each person and that social media platforms like Instagram or TikTok aren't the greatest resources for hair coloring advice or processes. The best thing is to consult your hairstylist. Even if something looks beautiful online, you can't feel the texture or see if there's really damage through screens and filters. Instead, trust the experts when transitioning back to your hair's natural hue. That way, you can avoid unnecessary damage to your hair.
More From VEGAMOUR
Photo credit: Anna Shvets/Pexels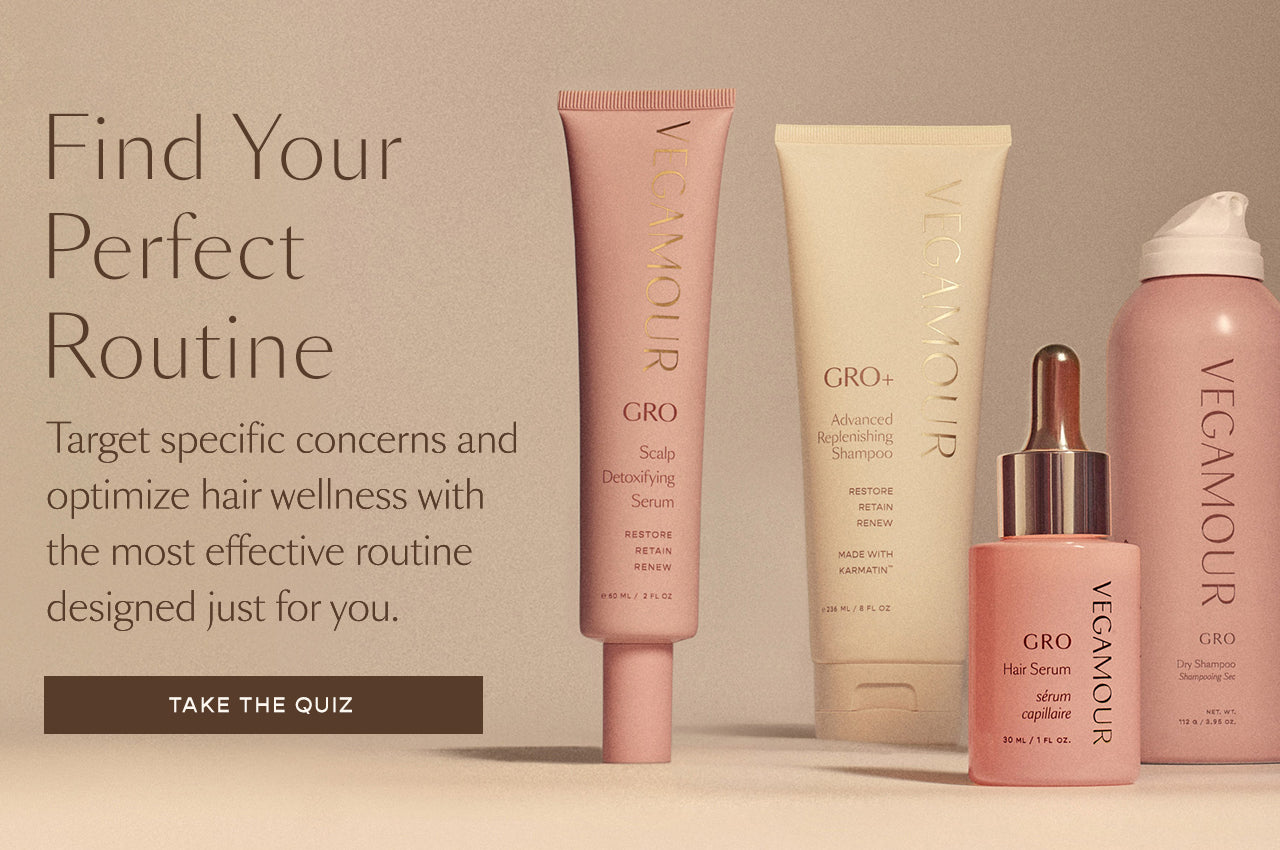 Disclaimer: Information in this article is intended for general informational and entertainment purposes only. It is not intended to constitute medical advice, diagnosis, or treatment. Always seek professional medical advice from your physician.