How To Tell If You Have Overly Moisturized Hair
The hair shaft is a wonderfully designed structure with scales that operate as tiny doorways which allow moisture molecules to pass into and out of your hair strands. However, once this process is overloaded, the results can be overwhelming to your hair.
VEGAMOUR spoke with a hair expert to help explain what happens when hair becomes overly moisturized — plus, find out what products you really should be using to provide the right amount of lightweight hydration while adding volume to your hair.
Maintaining Natural Moisture Levels
VEGAMOUR spoke with Casey Simmons, founder of Royal Locks Curl Care. Simmons has a unique perspective on this topic as an expert in curly-textured hair, a type of hair particularly vulnerable to over-moisturization.
"Moisture is related to oils in your hair either gained from products you apply or that your body naturally produces from the sebaceous glands," Simmons said. "Oils create a protective barrier on the outer layer of your hair. This outer layer is called the cuticle of your hair strand and will help prevent the hydration (e.g., water) in your hair from evaporating."
Sebaceous glands operate as on-site moisture producers that maintain an even level of hydration for your hair. But because of modern hair care habits — like heat styling or chemical treatments — hair often needs additional moisture. A good solution is to use a moisturizing conditioner that can help keep your hair hydrated and structurally sound.
Moisturizing your hair has the following important benefits:
Helps keep the hair strong yet supple enough to style
Reduces flyaways
Helps maintain a healthy elasticity to prevent hair breakage
Even though moisture is important for your hair, there's such as thing as too much. "To tell if you have too much moisture in your hair, pull a strand of hair and stretch it," said Simmons. "If it stretches without bouncing back, there is too much moisture. Your hair can look and feel limp, lifeless and extremely soft, almost fluffy. Curly-haired people need to watch out for moisture overload because the curl pattern will suffer, falling flat."
But excess moisture doesn't just affect curly hair types. Straight hair can also suffer the effects of too much moisture, such as limp, lifeless strands.
Shop: Get Healthy Hair From Root to Tip With the GRO Foundation Kit
Read This Before You Use Deep Conditioner
Healthy hair needs moisture. However, balance is key, so you don't over-moisturize your strands or stress the hair cuticle. Otherwise, you'll get in a cycle of using a clarifying shampoo to rid the hair of the heaviness and dullness of too much moisture and then using deep conditioners or other home remedies — like olive oil, coconut oil, avocado oil or rice water rinse — to supply more moisture to hair which feels almost brittle after clarifying.
Related: Brittle Hair? Here's What You Can Do
Signs Your Hair Is Overly Moisturized
The goal of any moisturizer is to provide the hydrating benefits your hair needs by supplementing the natural process of sebum production while maintaining or improving the integrity of the hair.
Here are a few indicators your daily hair conditioner or your deep conditioning efforts are doing more harm than good:
Your hair is limp and falls flat.
Your hair is dull and flat-looking.
Your hair feels spongy and mushy when wet and feels too soft and fluffy when dry.
Your hair has low elasticity — stretches when wet but doesn't bounce back when released.
Hygral Fatigue
Experiencing hygral fatigue is common for curly hair types and for people who shampoo, condition and dry their hair quite often.
When you wash your hair, the cuticle of your hair strand swells open, permitting any passable moisture molecules to easily penetrate the hair and support both the outer layer of the hair and the inner cortex. The cuticle then closes up and tightens as the hair dries. Repeating this swelling and unswelling process too frequently can tire out the cuticle layer, which creates the condition known as hygral fatigue.
Symptoms of Hygral Fatigue
Hair feels limp.
Hair feels mushy when wet but dries out quickly, leaving you with overly dry and possibly brittle strands.
Hair takes on a "tired," dull look that further conditioning does not seem to fix.
Prevent hygral fatigue by recognizing the symptoms early and knowing when to give your hair a rest. Use a gentle shampoo and conditioner regularly to preserve and protect cuticle cells from becoming overworked.
Protein Overload
A closely related issue to hygral fatigue happens when the protein levels in your hair are out of balance, which is known as protein overload. This usually happens if you use too many animal keratin treatments on the hair, such as if you're trying to rectify protein loss from chemical hair services or environmental damage.
Signs of Protein Overload
Look out for these signs that traditional protein treatments are more than your hair needs:
Poor elasticity meaning when you pull a strand, it snaps and breaks rather than stretching out and bouncing back.
A straw-like or dry feel to the hair following protein treatments, or even worse, brittle hair.
When hair becomes protein-overloaded, people often react by overly moisturizing the hair, creating even more problems for the protective outer layer of the hair. Instead, you should focus your efforts on achieving the perfect balance of protein and moisture for healthy, shiny hair that's also styleable!
One way to do this is to use GRO Revitalizing Shampoo and Conditioner each time you wash your hair. Both of these gentle formulas contain our proprietary microencapsulated vegan b-SILK™ protein to protect hair strands without the harsh chemicals that keratin protein treatments contain. Additionally, wild-harvested marula oil, organic murumuru butter and ximenia oil perfectly condition and hydrate the hair while battling damaging free radicals.
It's the perfect duo to keep you from worrying over a moisture or protein imbalance in your hair! Simply shampoo and condition as needed to keep your hair looking and feeling vibrant and lovely!
Balance Is the Key to Healthy Hair
At VEGAMOUR, we believe in a holistic approach to hair care. Not only do we offer lightweight, hydrating shampoos and conditioners, featuring our proprietary vegan Karmatin™, but we also offer serums, foams and supplements. Take the time to browse our tried-and-tested best sellers. You're sure to find the perfect mix of products to balance your scalp, nourish your follicles and bring you your healthiest, shiniest hair yet!
More From VEGAMOUR
Photo credit: Fleur Kaan/Unsplash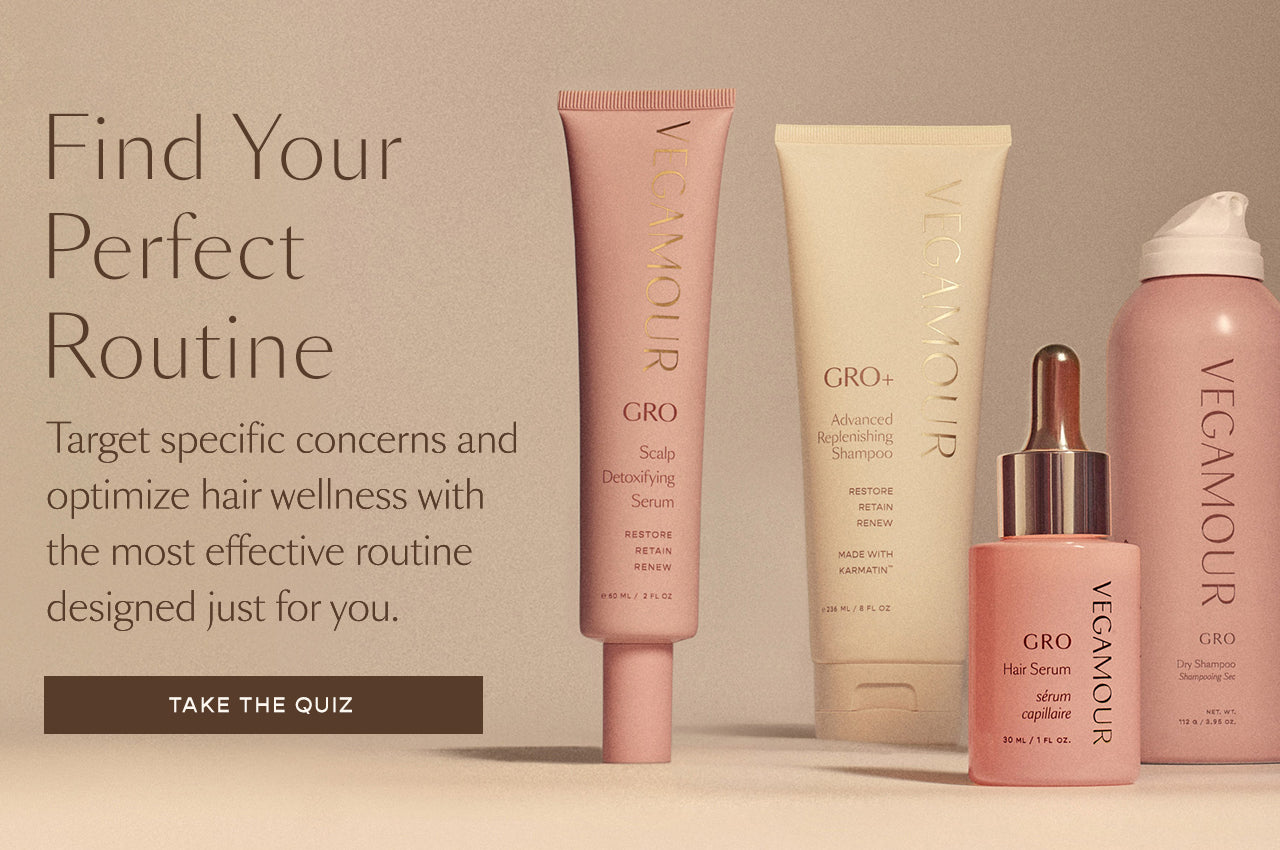 Disclaimer: Information in this article is intended for general informational and entertainment purposes only. It is not intended to constitute medical advice, diagnosis, or treatment. Always seek professional medical advice from your physician.