Here's How to Know If Your Hair Is Curly or Wavy
If your hair is not naturally straight, but you also don't have kinky hair or tightly coiled hair, you might have wondered "Is my hair curly or wavy?" Read on to learn how to tell which curl type or wave pattern your hair has — plus, find out about the best products for hydrating and nourishing curly and wavy hair.
Meet the Four Types of Hair
The four basic hair types are:
Straight (without using heat styling, like a flat iron)
Wavy
Curly
Coily
However, your hair type has less to do with the strands of hair itself and more to do with your hair follicles. Hair expert Quia Querisma explained that your hair type is determined by the shape of the actual hair follicle as it grows from beneath the skin. "Round follicles cause straight hair, slightly curved ones cause wavy hair, oval follicles cause curly hair and coily hair is caused by elliptical and nearly flat follicles," she said.
So why is curly hair different from straight hair? And how can you determine if your hair is curly or wavy?
Shop: HYDR-8 Collection
Why Curly Hair Is Different
It's easy to think of straight hair and just one type of hair — straight. With curly hair, however, there are many different curl types and wavy hair is kind of a middle ground.
"Curly hair comes in many forms and can include large or small corkscrews or even S-shapes," Querisma said. "Wavy hair falls between naturally straight hair and curly hair, causing large or small undulating curves that don't curl onto themselves."
Curly Hair vs. Wavy Hair
Beauty expert, Gwenda Harmon shared the technical differences between curly hair and wavy hair. "The main difference between wavy hair and curly hair is the shape and size of the individual curls," she said. "Wavy hair has soft s-shaped curves. How deep the wave goes defines whether they are 2a, 2b or 2c; 2a has a very loose S wave, 2b has a medium wave, and 2c has deep waves."
Curly hair will maintain its shape most of the time, regardless of styling techniques. "You can finger-coil curls no matter their diameter, but natural waves don't respond to finger-coiling," Querisma explained.
Harmon added that curly hair tends to have tighter ringlets. "In terms of types, 3a curls are very soft, large curls; 3b curls are medium springy, bouncy locks, 3c curls resemble more tightly-packed and smaller curls than 3b," she said.
How to Help Bring Out the Best in Wavy Hair
Because wavy hair requires a bit of extra attention to bring out its truest form, there are a few things you can do to achieve defined waves.
"After shampooing and conditioning your hair, gather the wet hair and scrunch it into a towel as you tilt your head to either side," Querisma advised. "As it air dries, your natural texture will start to appear. If it's more of a long S-shape, then your hair is wavy. If you're seeing spirals or ringlets, then your hair is curly."
See: What to Know About Hair Structure and Composition
Curly and Wavy Hair Need More Care
Because curly hair and wavy hair have a rounder curl pattern than a straight strand of hair, your hair's natural conditioning oils (sebum) take longer to reach the tip of the strand. For this reason, curly and or wavy locks of hair need more moisture.
"Curly hair is more prone to dryness because its natural shape makes it harder for the natural oils generated by your scalp to travel down the hair shaft," Querisma said. "A gentle hydrating shampoo and conditioner will help give curls a moisture boost. It's best to be mindful of your hair density to ensure that the products you choose aren't too heavy for your fine hair though. Curls and waves are also not a wash-and-go look. The best finishes are achieved through careful product selection, application and gentle scrunching before diffusing with a blow dryer."
You can use products like hair gel and curl cream to help your curly or wavy hair look its best. However, if you don't like blow-drying your curls with a diffuser attachment, there's the plopping method, which consists of letting your hair air dry while wrapped in a cotton T-shirt or microfiber towel. You will apply products like leave-in conditioner to provide extra moisture and help avoid frizz before wrapping your hair.
Also: 10 Ways You're Washing Your Hair Wrong
If You're Still Baffled About Your Hair Type
If you're still unsure about what type of hair you have, here are couple of ways you can test it.
The Pencil Test
"Slide a pencil down a single strand of dampened hair from top to bottom," Harmon said. "A smooth line indicates straight strands, some bumps mean slight waves and crunchy texture identifies tight curls."
Wet Hair Test
"Wet your hair thoroughly and then look down at your hair," Harmon explained. "Water reveals your true hair structure. See if it's curling into waves or ringlets and identify which curl you have."
Find Out: What's Your Hair Texture and Type?
Hydrate and Nourish Your Curls and Waves
One of the best ways you can nourish curly and wavy hair is by using hydrating products that will keep your curls in shape. Curly and wavy hair are naturally thirstier than straight hair, so hydration and moisturizing is key.
"To maintain the health of your hair, it is essential to invest in quality products that are designed for the specific needs of curly or wavy hair strands and textures," Harmon said. "A good shampoo should contain ingredients designed to help control humidity and define curls. A sulfate-free shampoo will help avoid stripping away any natural oils."
Wavy and curly hair are drier than other hair types, so they require a bit more care on wash days. VEGAMOUR HYDR-8 Shampoo and Conditioner are a perfect option for both wavy and curly hair. This all-natural, vegan, color-safe duo is perfect for all hair types and will cleanse and hydrate hair without stripping it of its protective oils or drying it out.
Both formulas are enhanced with Karmatin™ (the first-of-its-kind vegan keratin) as well as aloe vera, magnolia bark extract, marula oil, marunga seed oil and murumuru seed butter to help seal in hydration, reduce frizz, enhance shine and support a healthy scalp.
Harmon also recommended applying a deep conditioner treatment. Our HYDR-8 Deep Moisture Repair Mask containing Karmatin™, milk thistle, marula oil and marunga seed oil for an extra boost of hydration, while reducing frizz and promoting shine. Swap out your regular conditioner for this hydrating mask once or twice a week to help waves and curls appear bouncy and lustrous.
Other tips for caring for curly or wavy hair include using a wide-tooth comb when detangling your hair and avoiding brushing your curls when your hair is dry. "Only brush your hair when wet, as curly hair is fragile and can easily break when dry," Harmon cautioned.
Read: 26 Hair Wellness Tips From Experts
The Takeaway
If your hair isn't defined by tight coils or tight corkscrews, and you're trying to determine what your hair texture or curl pattern is, here's a quick summary. If your hair curls without your doing much to it, it's likely that your hair texture is curly. If your hair tends to fall flat without some scrunching or product, then your hair texture might be wavy.
Curly and wavy hair needs a bit more hydration and moisture to help you avoid dry hair or frizzy hair. One way you can achieve this is by making sure you're not overwashing your hair and stripping it of its natural oils. You should also use hydrating hair products specifically designed to impart moisture and reduce frizz. Give your curly or wavy hair some extra TLC and you'll soon see the difference!
More From VEGAMOUR
Photo credit: Gabriella Ally/Pexels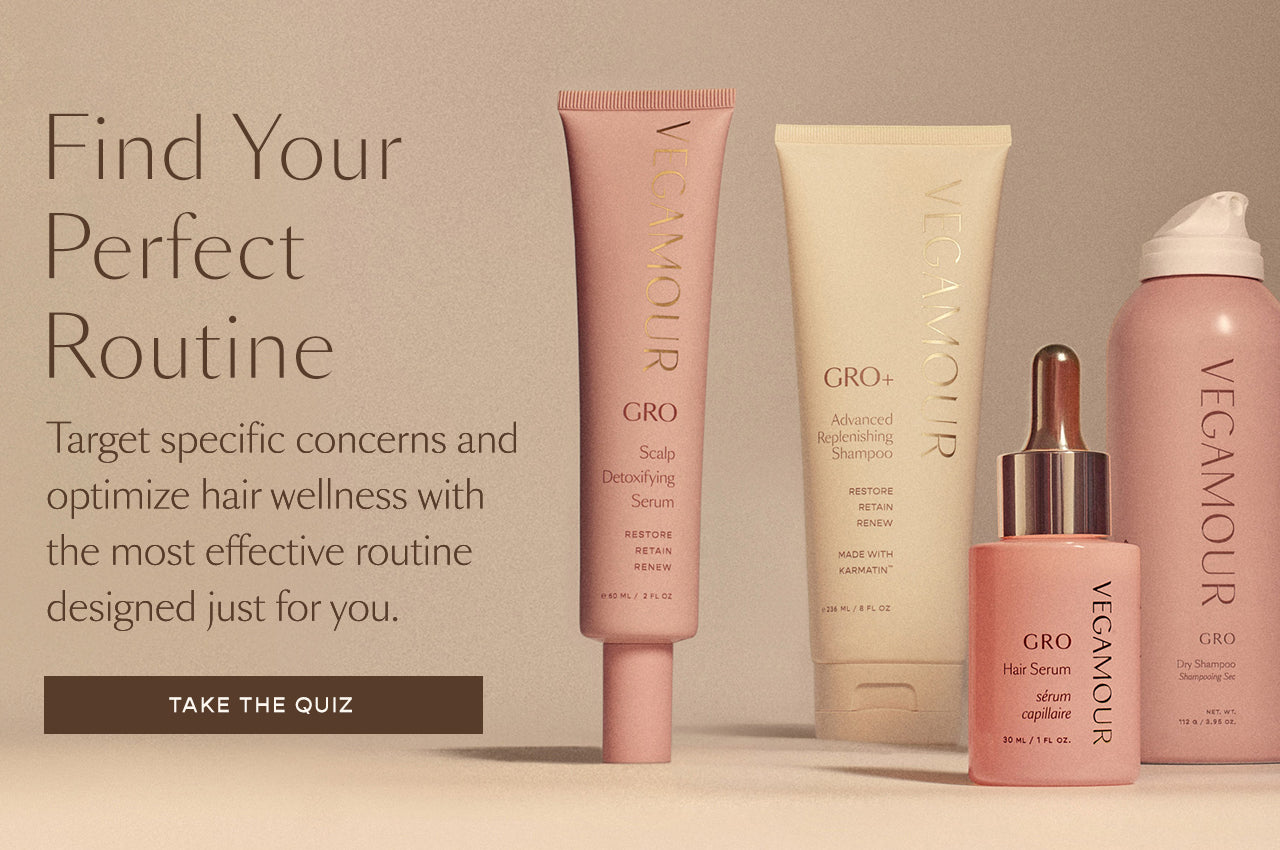 Disclaimer: Information in this article is intended for general informational and entertainment purposes only. It is not intended to constitute medical advice, diagnosis, or treatment. Always seek professional medical advice from your physician.