Macadamia Oil for Hair — Benefits and How to Use
When it comes to moisturizing and strengthening hair, many people opt to use natural oils such as coconut oil or avocado oil to add a bit of extra moisture in between wash days. One oil that promises to give hair a healthy shine while adding moisture and strengthening is macadamia oil. This nutrient-rich oil has many properties that are beneficial for the hair and scalp.
Read on to learn more about how you can incorporate macadamia oil into your haircare routine, as well as the best hair care products for imparting moisture and hydration naturally.
Benefits of Macadamia Oil for Your Hair
Nutrient-rich macadamia oil comes from the macadamia tree, which is predominantly found in Australia. The nuts that macadamia oil is made from are extremely healthy to eat on their own and are packed with healthy fats and nutrients.
Macadamia oil is rich in naturally occurring fatty acids, palmitoleic acid and amino acids, which are all a healthy part of a balanced diet. Macadamia oil has numerous beauty benefits and is often used in hair care, skin care and in body lotions. Some experts also say that macadamia oil is beneficial in stimulating hair growth.
Macadamia oil is usually cold-pressed using the nuts from the macadamia tree, which keeps the nutrients intact. The cold-pressed oil can be used as an ingredient in hair care products or as a pure hair oil on its own to add shine, combat frizz and prevent heat damage.
Below, here are some of the biggest benefits of using macadamia oil for hair.
Related: How to Use Hair Oil for Shiny, Gorgeous Hair
Balances Your Hair Oils
Macadamia oil has an incredible ability to balance hair and scalp oils. Cold-pressed macadamia oil is full of fatty acids including oleic acid, which helps the body produce the right amount of sebum and condition hair without causing it to become too oily. A balanced scalp with a healthy amount of sebum is crucial for hair growth.
"Macadamia oil makes hair shinier and stronger in a single application," said hair expert Alice Rawling. "Consistent use makes the hair healthier and easy to maintain. It also helps prevent frizziness and flyaways for curly and natural hair types."
Rawling explained that macadamia oil moisturizes the scalp and can help prevent flakes and dandruff. When the scalp produces too much sebum, the hair can appear greasy or weighed down. When the hair follicles produce too little sebum, the scalp can become dry, flaky and itchy, causing hair to become dry, brittle and damaged.
Keeps Your Scalp Healthy
Because macadamia nut oil is full of nutrient-rich oleic acid, it helps encourage cell turnover in the scalp, explained Rawling. Linoleic acid helps restore the barrier of the scalp, which can create a healthier scalp environment.
Rawling explained that a healthy scalp generally correlates with healthy hair. If the scalp's microbiome is healthy and balanced, the hair follicles and hair shaft will become stronger.
Read More: Dry Scalp and Oily Hair? Try This
Adds Hydration and Moisture to Your Hair Strands
Another consequence of a dry or unhealthy scalp is dry hair. When hair is dry, that means it needs more moisture and hydration. However, hair can also become dry and brittle for other reasons. Too much exposure to heat and chemicals can cause hair damage and even hair loss, even if your scalp is healthy.
The essential fatty acids and palmitoleic acid contained within macadamia oil are great for hydrating and moisturizing dry hair strands, which is so vital if the hair has experienced damage from over-washing, hot tools or bleach.
"Macadamia oil has the ability to smoothen and control frizzy hair due to the coating property on hair strands," said Rawling. "It also enhances nourishment through vitamins and fatty acids to repair the hair and strand structure. Vitamin E (3) in macadamia oil may also boost hair growth."
Natural Ways to Add Moisture to Hair
Using a high-quality non-greasy hair oil like macadamia oil, sweet almond oil or even pure marula oil is great for adding moisture to your hair, but oils can only get you so far. It's important to also use hydrating shampoos and conditioners every time you wash, especially if you have damaged hair.
VEGAMOUR's HYDR-8 Hydrate & Repair Shampoo and Conditioner is your hair's new hydration hero. This moisturizing combination ensures your hair is getting the nourishing and hydrating ingredients it needs on wash days. The all-natural, vegan, color-safe duo is perfect for all hair types and will cleanse and hydrate hair without stripping it of its protective oils or drying it out. This duo is enhanced with Karmatin™ (the first-of-its-kind vegan keratin), and while it doesn't contain macadamia nut oil, it does contain other natural ingredients such as aloe vera, magnolia bark extract, marula oil and murumuru seed butter to hydrate hair.
Pair that with the VEGAMOUR's HYDR-8 Deep Moisture Repair Mask containing Karmatin™, marula oil, milk thistle and moringa oil for an extra boost of hydration. You can even pair this treatment with your favorite hair oil to create a super hydrating and nourishing hair mask.

How to Use Macadamia Oil in Your Hair Routine
There are a few ways you can add macadamia oil to your haircare routine. You can add it to your hair before or after washing, depending on how you want to use it.
"A dime-size dollop of cold-pressed virgin macadamia oil is rubbed between the palms and smoothed through the hair," Rawling said. "Get the oil to the hair ends carefully to repair the damage and split ends. Work the oil from the scalp to the hair ends."
Let the macadamia oil sit for about 30 minutes in a shower cap before washing your hair. It will help add moisture to your hair, which can help reduce breakage and repair split ends. If your hair is dry, unruly or tangled you can comb macadamia oil through the hair thoroughly before tying it up in a loose bun. When you wash it, the hair will be noticeably less tangled.
Macadamia oil can also be used as a finishing oil after you wash your hair. Just be sure to apply it to your hair strands after drying your hair, as you don't want to heat macadamia oil up while heat styling and possibly burn your scalp.
Depending on your hair type, you'll want to use varying amounts of macadamia oil for hair. Rawling explained that straight and fine hair is naturally more oily, so it needs less oil. Curly hair, coily hair and dry hair are the hair types that will benefit most from using a a dime-sized dollop in their hair.
"Curly and coily hair tends to be [drier] so using a good natural hair oil can help them to stay hydrated and moisturized," said Rawling. If you have oily hair, use a few drops of macadamia oil on the ends and not the root. If you have low-porosity hair, you might want to skip this hair treatment since the macadamia oil molecules are too large to penetrate your hair shaft.
Macadamia oil is considered safe for all hair types, but if you have a nut allergy, it might be best to speak with your healthcare provider before trying it out in your hair care routine. Always do a patch test on your skin first before applying macadamia oil to your scalp or hair and monitor for any allergy symptoms or allergic reactions. If you do have a nut allergy and can't use macadamia oil, there are plenty of other oils you can use to help treat damaged hair.
Read More: This Is the Best Hair Mask for Thirsty Hair
The Takeaway
Macadamia oil is a great natural source of nourishing moisture. This non-greasy oil can create a nice shine on hair when used as a finishing oil or in hair masks. One of the biggest benefits of using macadamia oil for hair is that helps nourish and protect the scalp, restoring the balance of your scalp's sebum production. There's not enough evidence to suggest that macadamia oil is superior to other natural hair oils and it does cost more than its counterparts, like coconut oil, avocado oil or argan oil. However, if you feel that your damaged hair can benefit from the monounsaturated fatty acids and antioxidants in macadamia oil, there's nothing wrong with giving it a try.
If you have nut allergies or have experienced a nut-related allergic reaction in the past, proceed with caution or try using a different oil. If you use macadamia oil and experience an allergic reaction, wash it off your skin right away and contact your healthcare provider. For strong, healthy hair, use high-quality products that deliver natural hydration and moisture every time you wash your hair to keep your hair's hydration levels high.
More From VEGAMOUR
Photo credit: Irina Poskova/iStock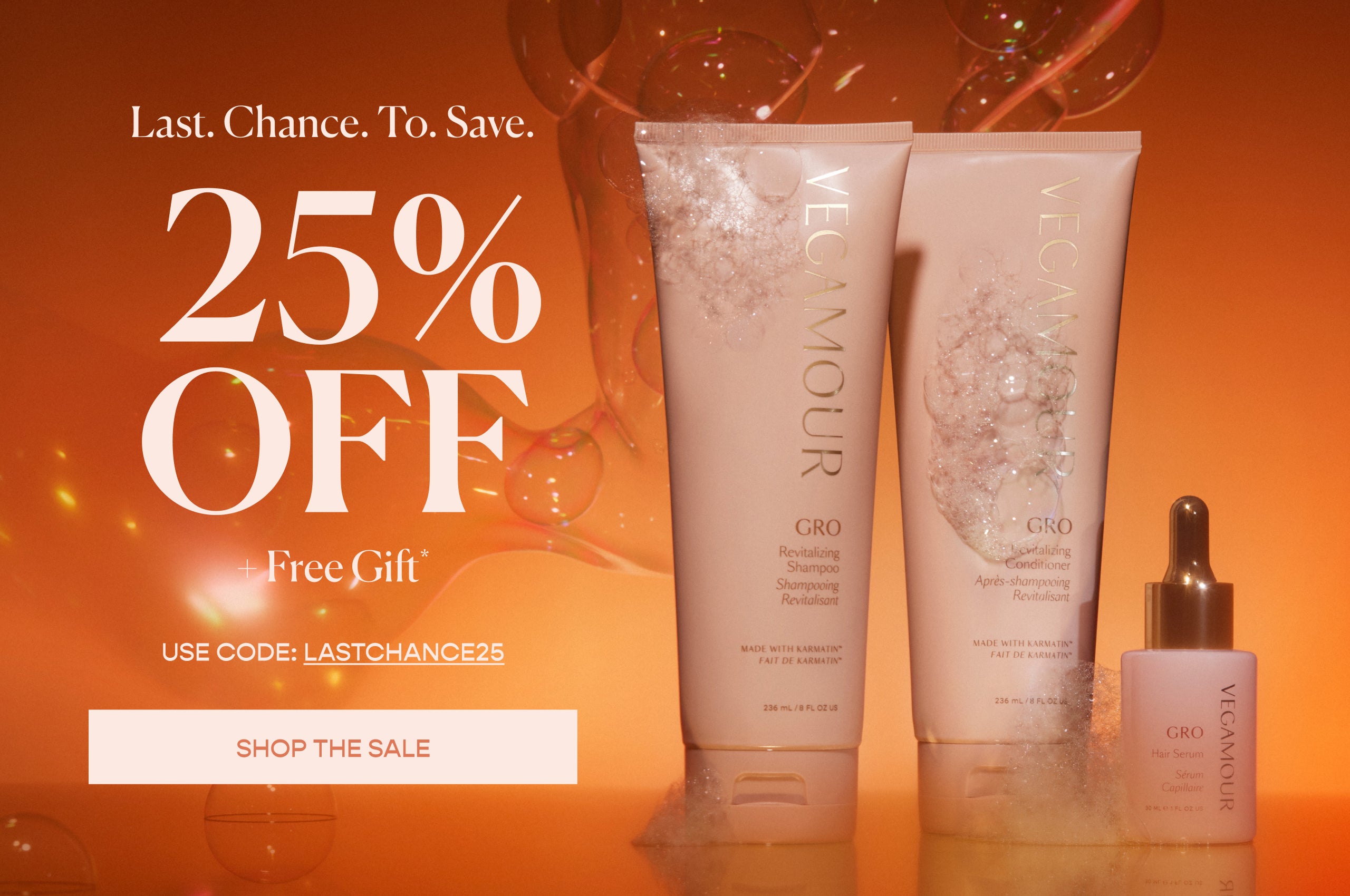 Disclaimer: Information in this article is intended for general informational and entertainment purposes only. It is not intended to constitute medical advice, diagnosis, or treatment. Always seek professional medical advice from your physician.