My Hair Looks Thin When Greasy — What Can I Do?
It's not fair. When your hair is freshly washed and styled, it looks presentable. However, in no time at all, your strands become oily, and your hair looks greasy, thin and lank — forcing you to either immediately rewash it or hide it under a hat.
But why does hair appear to lose volume when it's weighed down with excess grease? And is there anything you can do about it? Here are the expert answers you've been searching for — plus, find out what products can help you achieve visibly fuller-looking hair.
Why Hair Gets Greasy
You know that when your hair is oily and greasy, it loses volume and looks thin, but why exactly does this happen? Normally, the sebum your scalp produces at the roots of your follicles is just enough to help your strands stay shiny and moisturized. And while it is necessary to wash your hair every few days to keep oils under control, that's normal. Sometimes, however, your scalp can be abnormally oily due to factors such as the following:
Fluctuating hormones
Elevated stress levels
Allergic reactions to chemicals in products
Flare-ups from skin conditions
Aging
Hair follicle damage
If your scalp and hair are abnormally oily and greasy to the point that it interferes with your lifestyle or you're experiencing flaking, itching or hair loss, it's time to see a dermatologist for help.
Shop: Sulfate-Free Shampoos for Oily Hair
Why Greasy Hair Looks Thin
According to hair expert Jean Will of NiaWigs, an oily scalp makes your hair look thinner because a buildup of excess oil at the base of your hair follicles causes strands to clump together. "Greasy hair looks thin because of its oily look," she said. "When your hair is greasy, your hair follicles tend to look wet, which makes it look thin ..."
This is especially true for people with fine or thinning hair, which tends to get greasy faster — especially if you're using the wrong type of products.
Also: How to Care for Fine Hair
How to Solve Your Greasy Hair Problem
Now you know the reason grease makes hair look thinner, but what can you do to correct the issue? Here are the expert tips you've been waiting for to help cut down on excess oil production and make thin hair look fuller.
Adjust Your Wash Schedule
The first factor to consider in eliminating grease buildup is considering how often you wash your hair. 
"The best thing to do to prevent oil from weighing down your strands is to wash your hair regularly," said Will. "Hairs will accumulate oil from your scalp when it is not washed. Hence, wash your hair once a day or every two to three days."
Check Your Product Labels
What you use on those wash days is just as important as how often you wash, said Dr. Virginia Blackwell of DOfEve. So if your hair is looking lank, make sure you're not shampooing with the wrong products.  
"The best shampoo for oily hair is one that is designed to maintain the natural pH balance of your hair," Blackwell said. "Look for products that are sulfate-free and deeply nourishing. This will help to keep your hair healthy and shiny without causing it to become weighed down and flat."
Tip: Look at your current shampoo's label to find out if it's a sulfate-free formula. You might be surprised.
Use Dry Shampoo Designed for Thinning Hair
Still greasy between wash days? It's time to break out the ultimate secret weapon: dry shampoo.
"Greasy hair can make your hair look thinner if you don't style it in a way that gives the hair more volume," said Blackwell. "To do so, you can use dry shampoo in between washes."
But beware: Not all dry shampoos are created equal. Instead of a drugstore formula, opt for GRO Dry Shampoo, which is dry shampoo formulated without talc that's fortified with powerful, vegan phyto-actives. Not only will this groundbreaking formula make your strands look less greasy and add a dose of instant volume, but it also will help encourage healthier, fuller-looking hair — especially when paired with the other products from VEGAMOUR's GRO line.
Avoid Heavy, Chemical-Laden Styling Products
For example, heavy conditioners or silicone-based hair products can build up on hair strands and weigh them down, which, in turn, might make your hair look thin and greasy. Instead, look for products with clean, natural ingredients that can deliver the perfect amount of moisture and volume to your mane.
Related: Can Dimethicone Cause Hair Loss?
Brush Up on Hair Health
The best partner for a great dry shampoo is to use the right brush for your hair type. Experts say that the best brush style for people with fine hair prone to grease buildup is a bristle brush, which can gently help redistribute oil from root to tip, cutting down on excess grease and even preventing split ends.
Try a Volume-Boosting Hairstyle
Sometimes, in addition to your hair being oily, your hairstyle can be part of the problem. A hairstyle designed to lend volume to thinning strands can be a game changer.
Our experts suggested pulling lank strands into a ponytail, braid or another protective style to cut down on the appearance of thinness. Or, if you're willing to make a bigger change, a hairstylist can give your mane a much-needed dose of volume by incorporating layers, as well as give you information on how to help hair thrive.
Also: 6 Tips and Tricks for Styling Thin Hair
The Takeaway
Hair that looks thinner when greasy with no other symptoms is likely no big deal. Tweak your haircare routine by switching out your shampoo, conditioner and styling products for those that don't include sulfates or silicones, consider your wash schedule, use a dry shampoo made without talc in between washes and invest in the right hairbrush.
If you're doing everything right and are still suffering from heavy oils building up at your follicles or other troubling symptoms, such as severe flaking, itching or hair loss, consult with a trichologist, dermatologist or another medical professional who can diagnose the issue and recommend treatment.
More From VEGAMOUR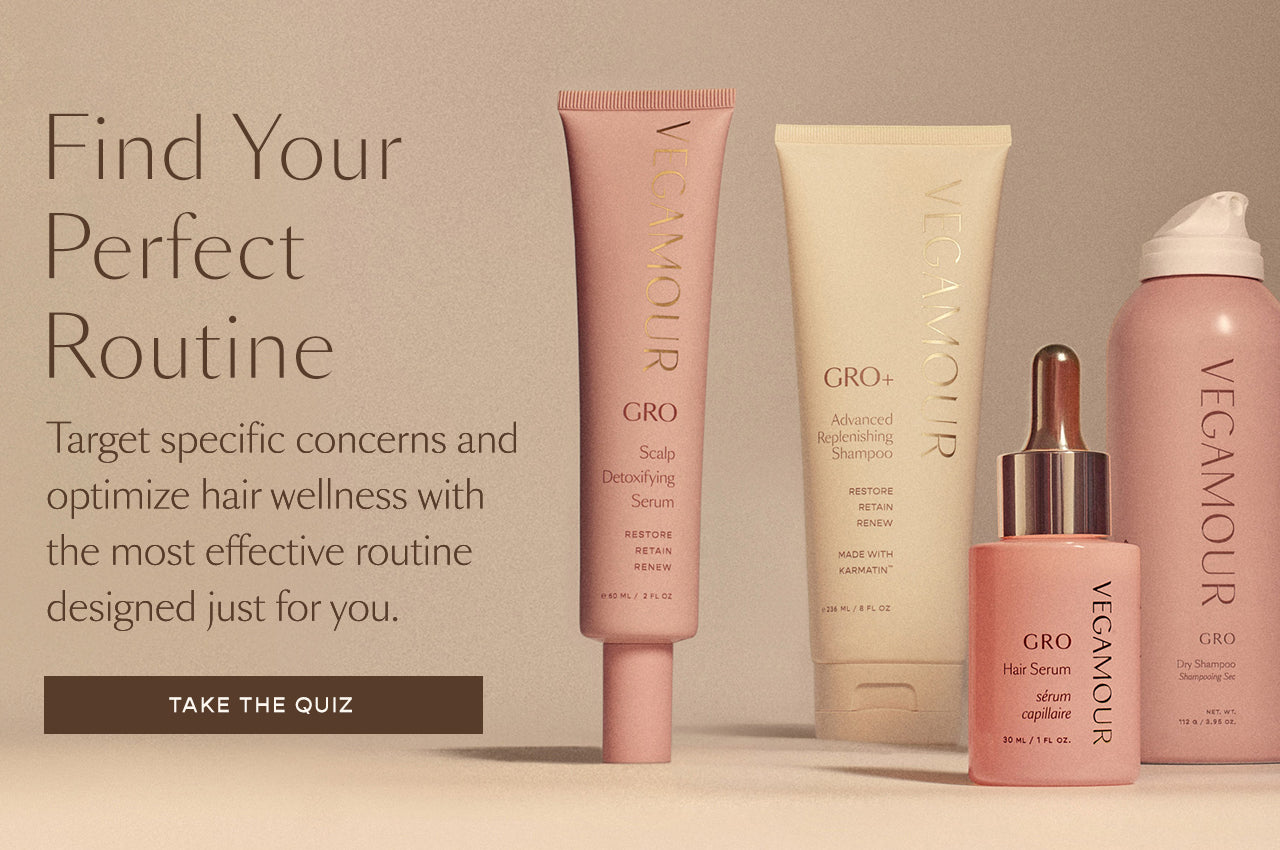 Disclaimer: Information in this article is intended for general informational and entertainment purposes only. It is not intended to constitute medical advice, diagnosis, or treatment. Always seek professional medical advice from your physician.