Here's All the Healthy Hair Tips From Experts You Need to Know
It's easy to browse the internet for advice on how to best take care of your hair, but there is so much information out there that it can be hard to sort through it sometimes. If you feel confused, overwhelmed or lost trying to decipher what's best for your unique hair type and texture, look no further than this comprehensive guide of healthy hair tips, plus find out what products you should use to nourish and care for your hair naturally.
Meet the Experts: 
Madison Dufour, Cosmetologist and Barber
Kevin Holmes, Founder of HairBro
How to Care for Your Hair Type
Healthy hair is generally regarded as having a smooth texture and clean, non-frayed ends. However, each unique hair type requires different ways of caring for it. Madison Dufour, cosmetologist and barber, weighed in with the following tips on how to care for your hair type.
Caring for Straight Hair
Get trims regularly.
Don't brush it wet.
Use quality shampoo and conditioner.
Don't overwash it.
Don't abuse hair with too many chemicals and dyes.
"Because the hair is straight, you can see all of the breakage better than other hair types," Dufour said. "When hair is wet, the natural elasticity of hair changes; it becomes more stretchy, so brushing wet hair stretches and damages the hair more than it does any good."
Dufour said that it's better to comb wet hair because a comb won't stretch the hair to the breaking point. Using a wide-toothed comb is best.
Shop: VEGAMOUR's 360° Approach to Hair Wellness
Caring for Wavy, Curly and Coily Hair
Caring for curly hair is a bit more involved than caring for straight hair. "Curly hair is naturally dry," Dufour said. Here are some tips for caring for wavy, curly or coily hair.
Avoid overwashing your hair (wash every 3+ days).
Avoid chemical straightening.
Avoid excessive heat styling.
Treat your curly hair to a hydrating mask regularly.
Get regular haircuts to keep curly hair healthy and less frizzy.
Air dry your hair whenever possible.
Try a leave-in conditioner or a hair serum.
How to Care for Your Hair Texture
Hair texture is different from hair type. Hair type refers to your hair as a whole, such as straight, wavy, curly or coily. Hair texture refers to individual strands of hair, such as fine, medium or thick. Here are tips for caring for each type of hair texture.
Caring for Fine Hair
If you have a fine hair texture, use lightweight shampoos, conditioners and styling products. Additionally, try to avoid daily heat styling, and always apply a heat protectant to strands when you blow dry or use hot tools. Also, avoid subjecting your fine hair to harsh chemical processes, such as bleaching. Fine hair lacks the innermost core of the hair shaft, known as the medulla, which thicker hair textures have. This means that fine hair can become damaged more easily.
Caring for Medium Hair
Lightweight, hydrating shampoos and conditioners are a good choice when caring for medium hair. And while too much heat styling isn't good for medium hair, there isn't quite as much potential for damage as there is for people with fine hair. However, you should still use a heat protectant spray. You should also avoid chemically processing your hair on a regular basis.
Caring for Thick Hair
Out of the three hair types, thick hair needs the least shampooing. However, when you do shampoo, you'll want to use hydrating products that are free of sulfates and other chemicals. You can also use a hair mask every week or two to help keep the hair soft and smooth. Too much heat styling and chemical processes, such as bleaching, straightening or perming, are not good for thick hair either.
See Also: How to Care for Thick Hair
Caring for Oily Hair and Dry, Brittle Hair
Besides caring for hair regarding type and texture, here are some other considerations. "Your scalp's production of oil should determine how frequently you wash your hair," explained Kevin Holmes, founder of HairBro. "You might need to cleanse your scalp once a day if it is oily. You might want to wash your hair less regularly if you have chemically
treated hair because it might be drier. You may not need to shampoo as frequently as you formerly did as you age since your scalp produces less oil. However, you might not be shampooing your hair thoroughly if you notice flakes in it."
Read: 10 Ways You're Washing Your Hair Wrong
Hair Treatments and How They Affect Hair
A good hair treatment can work wonders for your strands. But not all hair treatments are created equal.
Hydrating Hair Masks
Dufour believes in hydrating masks. "If the hair is too oily, choose or make a mask with less oil," she said. "You cannot put too much moisture into hair and skin. The more hydrated hair is, the smoother it will be, the more vibrant the color is, and the less often you need to wash it." If you are making a hair mask with thicker oils, like coconut oil, be sure you wash the oil out thoroughly, so you don't get grease on your clothes or pillowcase. Also keep in mind that heavy masks may weigh down fine hair.
Keratin Treatments
"Frequent keratin treatments are bad for hair," Dufour said. "[They] can put too much protein into the hair, causing the hair to swell and stretch the cuticle from the inside of the hair, thus causing damage and making it easy to break."
A safe and effective alternative to traditional keratin treatments is VEGAMOUR's version of vegan keratin, also known as Karmatin™, which is found in our shampoos and conditioners. This proprietary microencapsulated, vegan b-Silk protein is designed to bond with your hair strands, forming a protective sheath that leaves your hair glossy and smooth even after rinsing. Best of all, it's non-toxic, 100% vegan and won't dry out your hair or clog pores.
Shampooing and Conditioning Tips
"Maintaining smooth, lustrous hair can be greatly influenced by how you wash your hair and the products you use," Holmes advised. "Instead of shampooing the entire length of your hair, focus on cleaning the scalp. Washing merely your hair can result in coarse, flyaway hairs."
Whatever you do, Holmes insisted that you do not skip the conditioning step. "Using a conditioner can substantially improve the appearance of damaged or weathered hair."
Holmes noted that conditioners should only be applied to the tips of fine hair. "They should
not be applied to the scalp or the length of the hair because they might make the hair appear limp."
See: Why You Should Apply VEGAMOUR Hair Conditioners to Your Scalp
Up Your Washing Game
Consider using all-natural, vegan products on your wash days, like GRO Revitalizing Shampoo and Conditioner. This clean and color-safe duo can help you cleanse your hair without imparting any harsh chemicals, parabens or silicones. Enhanced with clinically proven plant actives and Karmatin™, the two will cleanse and nourish your hair rather than stripping it of its natural protective oils. Wild harvested marula oil, organic murumuru butter and ximenia oil assist in conditioning and hydrating scalp and hair without imparting pore-blocking residue on the scalp.
Related: 6 Signs You Need a Scalp Detox Treatment (and How to Do It)
The Wrap Up
The most important thing for maintaining healthy hair is to nurture it with gentle natural products that keep the hair hydrated, moisturized and nourished. Avoid harsh chemical processes and excessive heat styling, which can lead to dry, brittle strands. Also, invest in salon-quality products with all-natural ingredients that will not only cleanse your hair but also nourish its delicate microbiome in the process. Follow these tips, and you'll be well on your way to your happiest and healthiest hair yet!
More From VEGAMOUR
Photo credit: Helena Ije/Pexels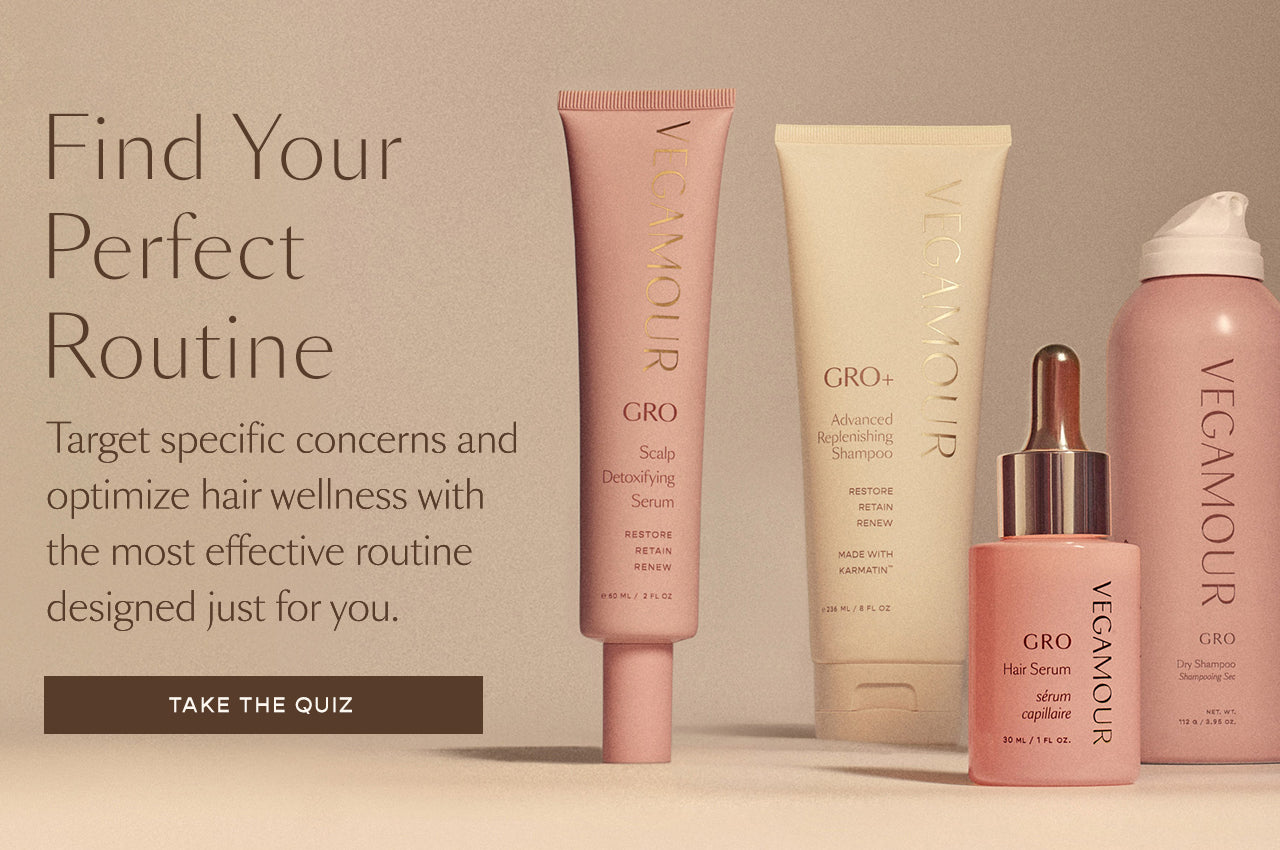 Disclaimer: Information in this article is intended for general informational and entertainment purposes only. It is not intended to constitute medical advice, diagnosis, or treatment. Always seek professional medical advice from your physician.