Thinking of Getting Eyelash Extensions? Here's What You Need to Know
There's no doubt that dramatic set of eyelashes can enhance your look. But donning falsies often requires glue and a lot of hassle. An alternative is to get eyelash extensions.
Read on to learn about eyelash extensions, including their pros and cons. Also, find out about the easy alternative you should try to naturally build more lush lashes.
What Are Eyelash Extensions?
Eyelash extensions are a semi-permanent application of natural or synthetic eyelashes to create a lusher lash line in a range of eyelash styles. They require skilled application as well as careful maintenance at home.
Individual lashes are applied with a skin-safe adhesive, securing each lash tip to the lid between one natural lash and the next. The application process takes a few hours to do but creates a look that lasts for several weeks. Clients may pay one set price for the application and a different (usually lower) price for the fill-ins.
Types of Eyelash Extension Fibers
Silk lashes: Fine, luxurious and flexible
Synthetic lashes: Vegan and cruelty-free, but they hold shape well. Might feel more stiff and heavy.
Human hair lashes: Provide a more natural style and feel.
Why Do People Opt for Eyelash Extensions?
They may be painstaking to apply, but lots of people enjoy wearing synthetic eyelash extensions for convenience. No more falsies looking like spiders all over your makeup station! No more glue or false eyelash magnetic stuff — plus, your eyes look great even without mascara.
Pros of Eyelash Extensions:
Voluminous lashes for every style – from a classic set to mega-volume lashes.
Customizable: Accentuate your eye shape with a more dramatic look or go more natural-looking with just a few added wisps around the outer corners.
Avoid daily application and removal of false eyelashes.
Reduce the need for mascara.
Cons of Eyelash Extensions:
Cost significantly more than falsies, which can be purchased rather cheaply and mostly everywhere.
Requires a good professional to apply them.
There are risks of infection, especially if not applied properly.
Shop: Natural Eyelash Enhancers for Thicker, Fuller Lashes
Importance of Professional Application
Most states require an esthetician or cosmetology license to do lash extensions, so it's imporant to get your lash extensions done at a reputable salon.
VEGAMOUR consulted with Dr. Kristina Hendija, a medical consultant for Beardaholic, about the health concerns one should consider before getting eyelash extensions, especially ones done at home.
"Eyelash extensions have gained popularity in the past couple of years," said Dr. Hendija. But many people apply [them] at home in order to cut back on cost."
Hendija said that it's best to consult with a licensed professional instead of applying eyelash extensions at home because it's possible that the wrong type of glue could damage your natural lashes or you could end up with an infection.
"A swollen eyelid is a common side effect of incorrect lash application," Hendija said. "Therefore, if you see any swelling, consult your doctor. Prolonged periods can infect the cornea or cause permanent lash loss."
Because of the risks, you should take the time to find a reputable eyelash extensions salon and lash technician. Look online for "eyelash studios" or similar phrasing, and be sure to read the reviews.
Request an initial interview with an eyelash tech to discuss the type of look you want. Your lash tech should answer all your questions and provide you with information about your lash extensions aftercare.
Remember, a reputable lash tech isn't the only resource for you. If you're concerned about your skin or any reactions you might have to the products used, you can also consult your dermatologist.
How Much Do Eyelash Extensions Cost?
Average prices per set vary widely depending on the salon and the type of look you want. Clients can expect to pay an average price based on the skill of the technician, the types of fibers used and the length of the appointment. Check ahead of time with the technician for a price range and how much time you'll need to set aside for both your initial application and your touch-ups.
A full set of lashes might be anywhere from $75 for a few additions to $300 and up for a fuller set. A set lasts a few weeks before you'll need to have more lashes added. They naturally come loose over time and fall off, thus the need for fill-ins.
What Will Happen at Your Eyelash Extension Appointment?
The big day has arrived, and you're ready to finally get the eyelash extensions you've been wanting. But what can you expect on your visit? Will it hurt? You're filled with anxiety and questions, but since you've done the work of finding a reputable eyelash extensions salon and lash technician, you're going to feel more at ease for your appointment.
To get your new lush lash style, individual eyelashes are applied very carefully with an adhesive that keeps them secured at the base of your natural eyelashes. It's not a painful process, but it does take time. Your lash technician will make sure you can relax comfortably during your service.
Do Eyelash Extensions Harm Your Natural Lashes?
A skilled technician will carefully apply the lashes to your lid, so the adhesive doesn't pull at your natural eyelashes. This means your natural eyelashes shouldn't be harmed in the process.
Eyelash Extension Aftercare
After you get lash extensions, be careful what you put on your eyelids. Oil-based products can loosen the adhesive of your new lashes. Use an oil-free makeup remover and facial cleanser. Do not rub the eyelash area because it could cause lashes to break loose from the adhesive. Return to the salon as directed by your technician for follow-up appointments.
Related: 3 Tips on How to Care for Your Eyelash Extensions

Should You Use a Lash Serum?
Absolutely. For volume lashes without the salon hassle and to avoid using glues and other adhesives on your skin, try a vegan lash serum at home.
VEGAMOUR's GRO Lash Serum is a plant-based, oil-free formula and supports your natural lashes with Magnolia officinalis bark extract and Vigna radiata seed extracts. That means no hormones, carcinogens or unpleasant side effects! And because the serum is oil-free, it's also safe to use with your eyelash extensions.
With consistent, daily use, you could see visible results in as soon as 30 days!
Related: Get to Know VEGAMOUR's Lash Products
Removing Lash Extensions
Beauty salons can remove your lashes for you, or you can do it right at home. (Your technician may recommend what oil-based remover will work best.)
Using a natural cotton pad soaked in oil-based remover, place the pad on your lash line, hold for a few moments and then gently wipe from the lid in a downward motion. Repeat as needed to remove all the lashes and adhesive. Then, proceed to cleanse your face and eye area as usual.
More: How to Remove Lash Extensions Without Damaging Your Natural Lashes
Better Lashes — Naturally
To learn more about lash extensions, contact a licensed eyelash technician. Also, take the time to learn more about VEGAMOUR's non-toxic, hormone-free eyelash-enhancing products that are designed to support visibly thicker, fuller-looking lashes in as little as 30 days. After all, if you can get a lush lash line without the hassle and expense of extensions, why wouldn't you?
More From VEGAMOUR
Photo credit: Kanawa_Studio/iStudio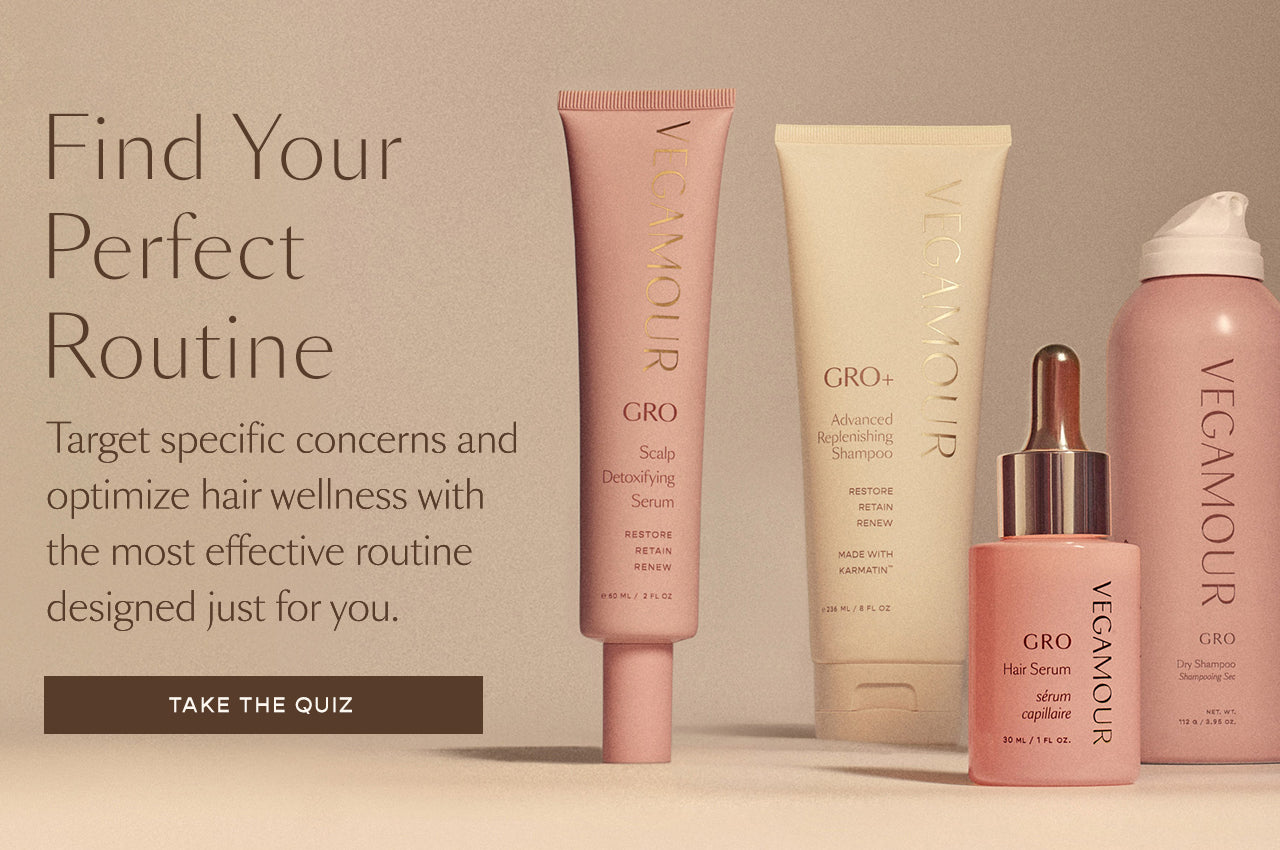 Disclaimer: Information in this article is intended for general informational and entertainment purposes only. It is not intended to constitute medical advice, diagnosis, or treatment. Always seek professional medical advice from your physician.