Everything You Need to Know About Baby Bangs
Baby bangs are taking over the selfie world. There's no denying they are cute, bold and trendy, but will they work with your face shape and type of hair?
VEGAMOUR has the details on everything you need to know about baby bangs — from cutting tips to care tips. Plus, we'll share what you can do if your hair's a little too thin to pull off baby bangs.
What Are Baby Bangs?
Super-short bangs across the mid-to-upper forehead, called baby bangs or micro bangs, are trending as a way to update your look and make a bold statement with your haircut. There are different types of baby bangs, from cropped bangs with wispy ends to blunt baby bangs with sharp and thick edges. Whichever you choose to complete your look, baby bangs can transform your style and create a nice open space between the brows and your bang line.
VEGAMOUR spoke with Rebecca Hilton of J-Beauty about this trend. Hilton said that baby bangs are versatile and can easily be customized to fit any face shape and hairstyle. "Baby bangs are perfect for anyone looking to add a little something extra to their hairstyle and are a great way to spice up a basic cut," she said.
Shop: GRO Collection for Thicker, Fuller Looking Hair
Are Baby Bangs Right for You?
Hilton recommended baby bangs for heart, oval and round face shapes. She said the light, airy fringe could help soften the features and bring out the face's natural shape. "Those with wavy or curly hair will benefit from the added texture baby bangs provide, while straight hair types can let the bangs hang down for a sleek, straight-across look," Hilton said.
However, for square-shaped faces, this cutting style may make the face look even more squarish and angled, which is great if accenting these sharp features creates the look you want. To soften the look, opt for a few face-framing layers of various lengths to soften the jawline and bring balance to the overall look.
Related: Try These 7 Best Haircuts for Thin Hair
What If Your Hair Is Thin?
If you have thinning hair at your hairline, you don't have to sit out this fashion trend. Your stylist may pull down a bit more hair for your bang section and choose to go light on the texturizing. However, there are also some things you can do at home to fill out your new short bangs. For example, try using a hair serum along the front of your hair.
More: How to Hide Female Hair Thinning in the Front
Types of Baby Bangs
Once you've decided to go with baby bangs, it's time to think about which style best suits your face and hair. Remember, these bangs are shorter than traditional bangs, so if you don't like them, it will take longer to grow them out.
Do you want something wispy and airy or cropped-off blunt?
Do you want any other layers to soften the look?
Do you want the bangs to be straight or swept over to the side?
How do you want the ends of the bangs to appear — straight and thick, wispy and thin (like a curtain of fringe) or choppy and chunky?
Talk with your stylist about what you want and if it will work for your hair type.
Curly Baby Bangs
What could be cuter than a few springy curls right on your forehead? Baby bangs let you show off your curls. Your stylist may opt to cut them dry to get the perfect length for your curly look.
Blunt-Cut Baby Bangs
Blunt-cut baby bangs above the brow (or even higher) make a bold and classic statement reminiscent of Bettie Page in the 1950s. This look was bought back into fashion by actresses like Pauley Perrette from NCIS. Blunt-cut baby bangs can also be goth or artsy.
Face-Framing Baby Bangs
If you need something a little softer to frame your face, have the baby bangs cut into an upside-down U-shape to give that face-framing edge to the corners of your bangs.
Fringed Baby Bangs
Fringed baby bangs give almost a lacy look to your style. They're airy and free and soften the face with low-maintenance wisps across the forehead. Fringed baby bangs might look best when cut with a straight razor.
Micro Baby Bangs
Go bold or go home, right? Super short baby bangs with a sharp edge, called micro bangs, really open up the face, so make sure your eyebrows are spectacular! However, the weight and texture of your hair might not be the best for micro bangs if your hair won't lay down enough to showcase that bold length.
Choppy Baby Bangs
Bring out the natural texture of your hair with these fun cropped lengths. For those on the go and living life to the fullest, choppy fringe baby bangs are that edgy signature look. Choppy baby bangs are bold on a bob haircut but can also look great on a shaggy, longer cut with long layers.
Related: Want Bangs But Have Thin Hair? Try These Tips
Baby Bangs Styling & Upkeep
Short bangs require careful styling to accentuate the look.
Use a tiny bit of pomade to wisp out the ends.
Use hairspray to hold stubborn bangs into place.
A round brush may make the bangs appear shorter than you want. Instead, use a flat iron to shape them.
Dry thick bangs with a flat brush before flat ironing them into shape.
If your baby bangs are light and you want them to stick straight out, use a bit of styling product at the root and blow dry them straight down.
For curly bangs, air dry them and polish them with a tiny bit of hair oil to make the curls more smooth.
Baby bangs may also require more upkeep than other haircuts. Get a bangs-only haircut every other week to keep the baby bangs' length right where you want it.
Also, to keep your baby bangs looking great in between washes, use GRO Dry Shampoo. This shampoo is packed with powerful phyto-actives and formulated without talc or benzene. It has a fresh, light scent and applies evenly to absorb oils, perspiration and odors. It can give your baby bangs (and your hair) a clean, fresh lift anytime you need it!
See: How to Use Dry Shampoo to Get Clean Hair Between Washes
Support Your Style with VEGAMOUR
Baby bangs are trending — from bold micro baby bangs to free-flowing fringe — and they might just be the style update you're craving! Whichever look you choose, opt for vegan hair care that supports, thicker, fuller-looking hair, and, if you choose, those snazzy new baby bangs!
More From VEGAMOUR
Photo credit: Nomad/iStock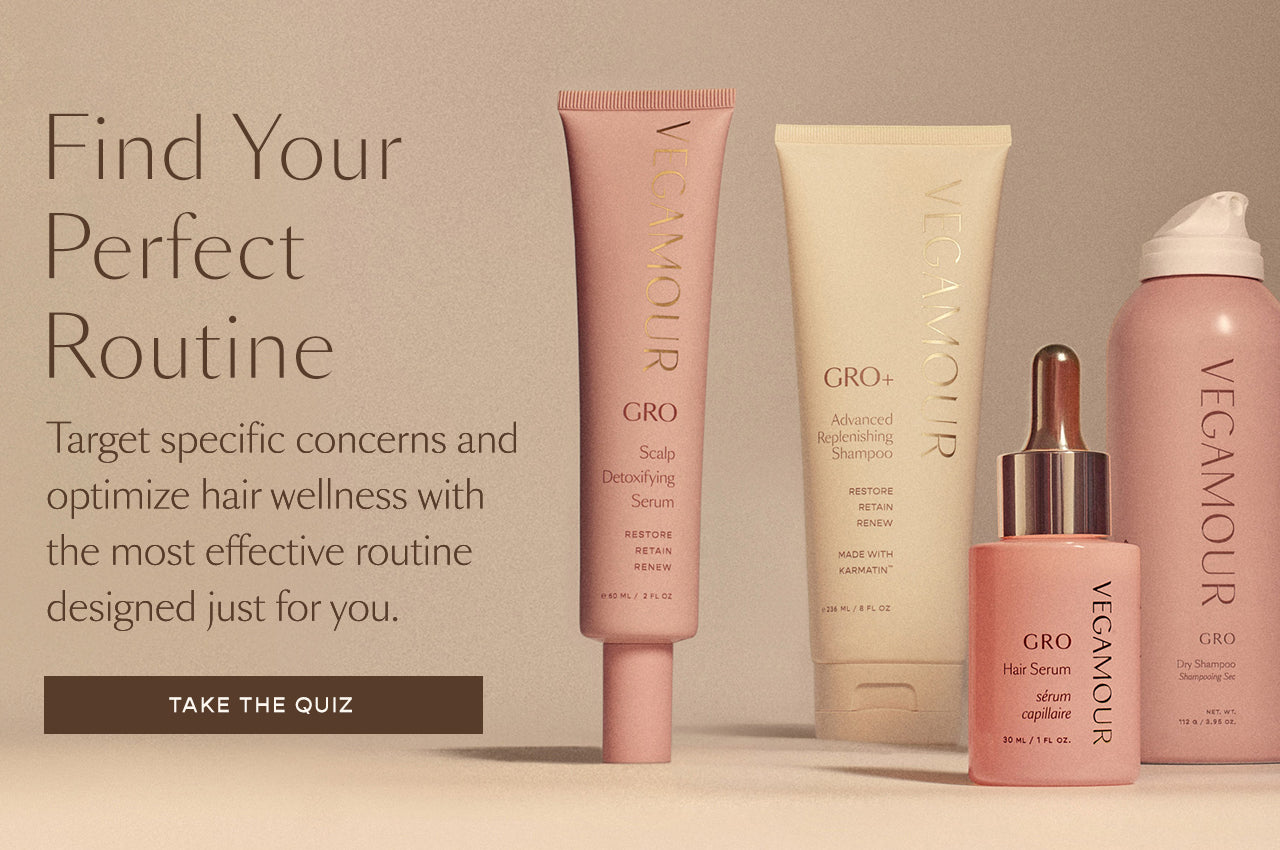 Disclaimer: Information in this article is intended for general informational and entertainment purposes only. It is not intended to constitute medical advice, diagnosis, or treatment. Always seek professional medical advice from your physician.