This Is the Best Conditioner to Encourage Thicker Looking Hair
Achieving thick, voluminous hair can seem unattainable if you have fine hair, thinning hair or are experiencing any sort of thinning hair. But getting the hair of your dreams might actually be easier than you think.
Read on to learn how conditioner can be used for more than replenishing moisture and smoothing your strands, including what natural, non-toxic products you can try to encourage fuller-looking, healthier hair.
How Thickening Conditioner Works
Shampoo followed by conditioner is a no-brainer. Yet, perhaps you haven't given much thought as to what exactly that final conditioning step in the shower is doing for your hair. Thickening conditioners are formulated to hydrate and condition your hair while helping to plump it up at the same time.
Utilizing specific ingredients with the intention of making the most of the fullness that your hair already has, the best thickening conditioners are also meant to encourage an optimal environment for scalp and hair wellness. After all, healthy hair will make your hair look thicker and enhance fullness. Unfortunately, however, not all thickening conditioners are formulated with the health of your hair in mind.
Shop: Natural Hair Products for Thicker, Fuller Looking Hair
What to Look for in Thickening Conditioners
Anyone longing for thicker hair has likely sought out hair care products designed with extra volume in mind. And although there are tons of volumizing styling products out there, volume-building alone isn't the best route to truly increasing your hair's density and maximum fullness. Volumizing is good, but you'll also need a product with powerful phyto-actives that will help encourage thicker, fuller hair from the inside out.
Additionally, if you have fine hair, thinning hair or are struggling with any hair thinning issues, you'll want to steer clear of certain ingredients in any thickening product you use. Here's how to completely overhaul your hair care routine with natural products to encourage thicker, fuller-looking hair.
Start With Your Scalp
A healthy scalp is essential to building the ideal environment needed to stimulate hair wellness and encourage fuller-looking, stronger hair. Practice self-care with a weekly scalp detoxifying treatment that eliminates buildup and exfoliates and soothes the scalp. Cleansing and caring for your scalp with the same diligence you use in your skin and hair care routines creates the optimal environment for healthy hair to happen.
Skip Unnecessary Additives and Chemicals
Many conditioners have artificial additives paired with keratin to create smooth, thick-looking hair, but they can cause unwanted side effects. Instead, go with products that utilize non-toxic, natural ingredients. Skipping the chemicals can help to reduce hair thinning and pump up the volume without sacrificing your scalp or hair health.
Choose a thickening shampoo and conditionerthat arespecifically formulated to support thinning hair with clean, hydrating, nourishing ingredients.
Power Up With Plant Protein
"In hair care, protein is a very important ingredient," said Dr. Tanuj Nakra, M.D., FACS, double board-certified dermatologist and facial and ophthalmic plastic surgeon. "Protein adds fullness and shine to hair shafts. Mung bean is full of protein, and this adds to the micro-encapsulated silk protein found in GRO Revitalizing Conditioner to produce a powerful formula for thickening." 
Read: Keratin vs. Karmatin™: The Difference Is Huge
GRO: The Best Thickening Conditioner
The best thickening conditioners help hair feel thicker without compromising its integrity or irritating the scalp. Thickening products formulated with nourishing ingredients from nature (rather than chemicals) can counteract the effects of stress, dryness and irritation that your hair and scalp experience each day. Plus, anything that naturally hydrates hair while promoting stronger, fuller strands is a win for thinning hair — or any hair type!
VEGAMOUR's thickening conditioner is a vegan alternative to a keratin treatment. It contains our proprietary Karmatin™, which is a micro-encapsulated vegan b-SILK™ protein that bonds to each strand of hair in a protective sheath. Best of all, this protective bond stays attached to your individual strands even after rinsing, leaving soft, satin-smooth hair that lasts until the next time you wash it!
"Micro-encapsulation is a very effective molecular approach to beauty product formulas," said Dr. Nakra. "The process protects delicate active ingredients until the moment of application to the hair and skin."
Besides helping you achieve thicker, fuller hair, GRO Revitalizing Conditioner is rife with other hair and scalp benefits, including the following:
Safe, effective and free of silicones and parabens, GMOs, phthalates, sulfates, mineral oils, gluten and synthetic fragrances just like all VEGAMOUR products are!
Suitable for daily use on any hair type, including color-treated hair.
Includes wild-harvested marula oil, organic murumuru butter and ximenia oil, which condition and protect hair from scalp-damaging free radicals without leaving behind any pore-blocking residue.
Read: What Does Conditioner Do to Your Hair?
How to Apply Thickening Conditioner
Now that you know what the best thickening hair conditioner is, here's how to use it!
First, lather up with thickening shampoo. Massage the shampoo into your roots for 60 seconds using your fingertips to increase circulation (the scalp massage is an added bonus!), and continue throughout the hair's length. Rinse.
Next, apply the conditioner. Use a quarter-size amount on your scalp, working down through the hair shaft to the ends. Work the conditioner into the scalp using your fingers for 60 seconds, allowing phyto-actives to absorb completely.
Leave on for two minutes. Thoroughly rinse out the conditioner with cool water to seal in moisture and shine.
Read: Shampoo or Conditioner First? Hairstylists Explain
Take a Holistic Approach to Hair Care
Healthier, fuller, thicker hair begins from within, so give your hair the conditioning care and attention it deserves! Integrate a restorative conditioning ritual into your regular home hair care routine, along with prioritizing self-care, staying hydrated and practicing stress-minimizing habits such as mindfulness and daily movement.
For best results, opt for gentle, nourishing and effective hair wellness products designed with you and your hair's unique needs in mind, such as VEGAMOUR hair products. With regular use, your hair will look thicker, shinier and healthier than ever. Get ready to achieve your best hair yet!
More From VEGAMOUR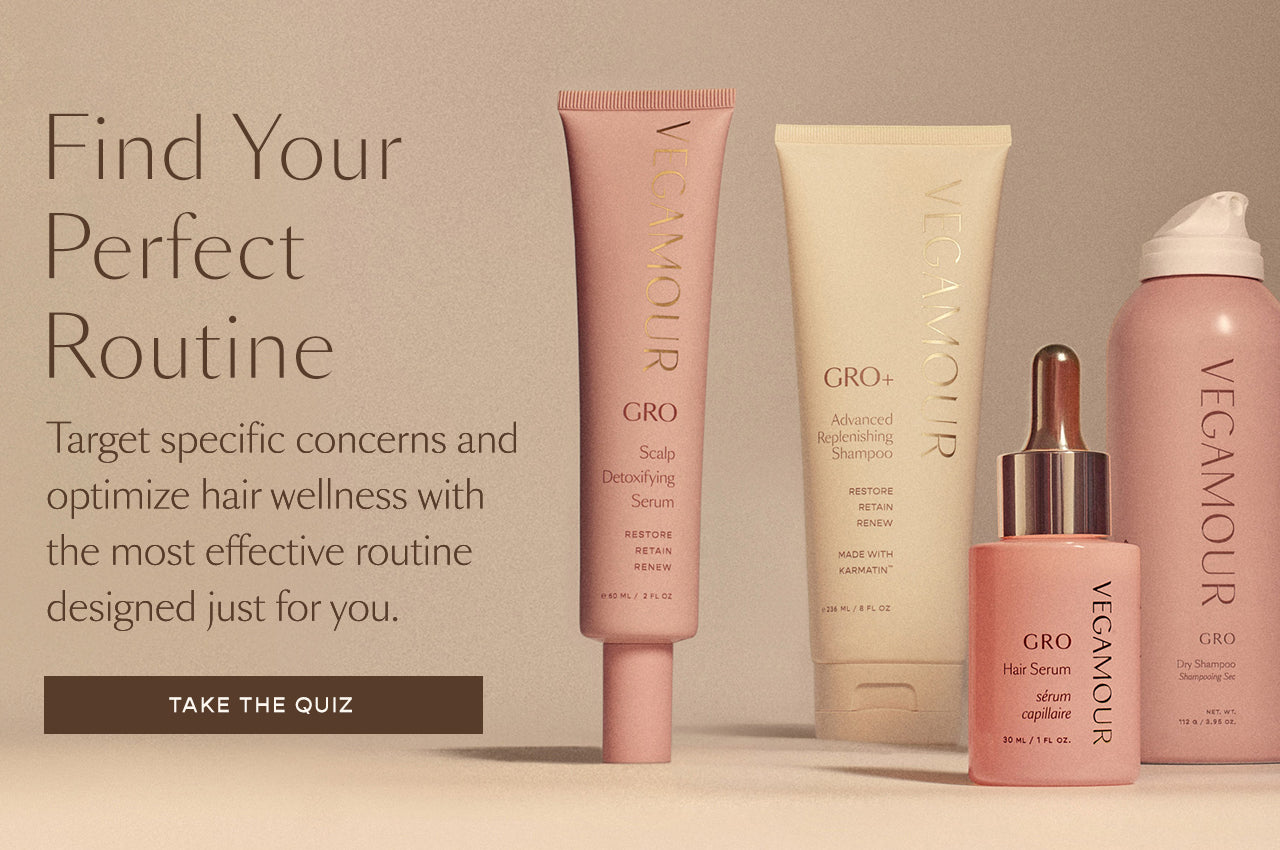 Disclaimer: Information in this article is intended for general informational and entertainment purposes only. It is not intended to constitute medical advice, diagnosis, or treatment. Always seek professional medical advice from your physician.