Here's What You Should Use for Dry Hair
Open any beauty magazine or blog and you'll notice that every model's hair is lustrous, shiny, full and bouncy. If you have dry hair, you might be wondering what you can do to transform your lackluster locks into shiny, glossy strands. The answer is complicated, and it might involve a few changes to your regular hair care routine. Read on to find out why you might have dry and damaged hair as well as the best products to nourish and hydrate hair naturally.
What Causes Dry Hair?
Dry hair can be a bit of a mystery. There is a litany of reasons why someone might be dealing with it. "Dry hair is caused by a lack of natural oil and sufficient moisture in the hair," said cosmetologist and dermatologist Dr. Anju Methil. "[This] can be due to environmental factors such as exposure to the sun, wind, cold weather or chlorine and pollution, as well as shampooing too frequently and using harsh chemicals on the hair."
If you're dealing with dry, brittle hair, you'll know. You can tell by how it looks and feels. "Dry hair is hair that lacks natural moisture and can appear dull, brittle and frizzy," hairstylist Viktor Holas explained. "Dry hair can be difficult to manage and can lead to split ends and breakage."
Here's a breakdown of the factors that can contribute to dry hair.
Environmental Factors
It turns out that spending too much time outdoors in extreme weather can affect your hair and dry it out. "Exposure to hot or cold weather, wind and sun can all strip moisture from the hair," Holas explained.
Chemical Treatments
You might have been cautioned by a mindful hairstylist in the past to avoid applying too many harsh chemicals to your hair. "Using hair dyes, bleaches, straighteners and other chemical treatments can damage the hair and cause it to become dry and brittle," said Holas.
Related: Read This Before Getting a Keratin Smoothing Treatment
Lack of Moisture
Drinking plenty of water is not only essential for your overall health and well-being, but it's also good for your hair. "Not drinking enough water, using hot water to wash hair and not using conditioner can all cause the hair to become dry and damaged," Holas explained.
Medical Conditions
Internal factors can play a role in the health of your hair as well. "Medical conditions such as thyroid disease, anemia and dehydration can contribute to dry hair," Dr. Methil explained. "Dry hair often appears dull and brittle and may be prone to breakage or split ends." If you are struggling with dry hair and suspect that it might be due to an underlying health condition, it's always wise to consult your healthcare provider.
Remedies for Dry Hair
Treating dry and damaged hair requires regular use of moisturizing products that are designed to replace the natural oils in the scalp as well as the hair strands. The best place to start is with the products in your shower. If you're wondering what to use for dry hair, here's what the experts have to say.
"Using a good quality shampoo, hair masks and conditioner that are designed to hydrate the hair, as well as deep conditioning treatments, can also help alleviate dryness," said Dr. Methil. Holas also explained that to resolve dry hair, it's important to moisturize the hair and protect it from further damage. Here are a few ways to treat dry hair and get it back to a deeply hydrated state.
Use a Hydrating Shampoo and Conditioner
Not all shampoo and conditioners are created equal. If you're struggling with dry and damaged hair, it's time to get specific with your products.
"Use a moisturizing shampoo and conditioner," said Holas. "Look for products that are formulated to nourish and hydrate the hair. Avoid using shampoos that contain sulfates, which can strip the hair of its natural oils."
Wash your hair with an all-natural shampoo like VEGAMOUR's HYDR-8 Shampoo and Conditioner. This all-natural color-safe duo is perfect for all hair types and helps cleanse and hydrate the hair without stripping it or drying it out. It's enhanced with Karmatin™ (the first-of-its-kind vegan keratin) as well as aloe vera, magnolia bark extract, marula oil and murumuru seed butter to condition and hydrate hair.

"Use a leave-in conditioner or hair mask," Holas suggested. "These products can help restore moisture to the hair and prevent it from becoming dry and damaged."
Nourish damaged and dry hair by using VEGAMOUR's HYDR-8 Deep Moisture Repair Mask a few times per month. It contains Karmatin™, marula oil, milk thistle and moringa oil to give your hair an extra boost of hydration.

Avoid Heat Styling Tools
According to Holas, it's important to avoid excessive heat when styling dry hair. "Using heat styling tools, such as hair dryers, straighteners and curling irons can damage the hair and cause it to become dry and brittle," he explained. "If you must use heat styling tools, use a heat protectant spray to help protect the hair." Consider taking a break from blow drying and try air drying your hair instead.
Cut Your Hair Regularly
Another way you can help heal hair dryness is by cutting off the damaged locks whenever possible. "Regular trims are also recommended in order to keep split ends and frizz at bay," said Dr. Methil. "It is [also] important to stay hydrated and eat a nutritious diet, as this can help maintain healthy hair from the inside out."
Avoid Harsh Chemicals
If your hair is dry and damaged, it needs a break from the heat but also chemicals. "Avoid using hair dyes, bleaches and other chemical treatments that can damage the hair," said Holas. If you must use these products, Holas advised that you follow the instructions carefully and use a deep conditioner with moisturizing ingredients afterward to restore moisture to the hair.
Read More: Dull Hair? Things You Can Do to Bring Your Hair Back to Life
Dry Hair Natural Remedies
When dealing with dry, frizzy hair, you can also try these additional natural remedies to help strengthen hair.
Rice Water
Dr. Methil explained that rice water could help increase hair elasticity, while also reducing frizziness, and improving overall hair health. "Simply add a cup of uncooked rice to two cups of boiling water and let it sit for about 30 minutes before straining the mixture. Apply on wet hair," she said.
Apple Cider Vinegar
The naturally acidic nature of apple cider vinegar helps to balance the pH of your scalp. "Its natural enzymes [also] help to remove dead skin cells, excess sebum and product buildup," Dr. Methil advised.
Aloe Vera
Aloe vera isn't just for sunburns; it can also help calm a frustrated scalp. "Aloe vera is another great remedy," Dr. Methil explained. "It helps to soothe an irritated scalp while also adding essential moisture and shine. For best results, blend it with a carrier oil such as coconut or olive oil before applying it to your hair."
Honey
Honey has naturally hydrating properties and it is also rich in antioxidants. "It's ideal for nourishing the scalp and restoring moisture to dry hair," Dr. Methil said. "Mix one tablespoon of honey with a few drops of coconut oil or olive oil and massage the mixture into your scalp for 15 minutes. Rinse with warm water and shampoo as usual."
Read More: 5 Vegan DIY Hair Masks You Need to Try
The Takeaway
There are a variety of reasons why you might be experiencing dry hair. The first thing you'll want to determine is if the cause is internal, external or a combination of both. If you think it might be related to a health issue, contact your healthcare provider right away to discuss your options. If it's related to an external factor, the best thing you can do is adopt better haircare practices right away and invest in quality products with ingredients that hydrate and moisturize your hair naturally. Even if your hair is dry and damaged, with the right at-home hair care products you can heal hair breakage and get it back to a healthy, hydrated state in no time.
More From VEGAMOUR
Photo credit: Lina Kivaka/Pexels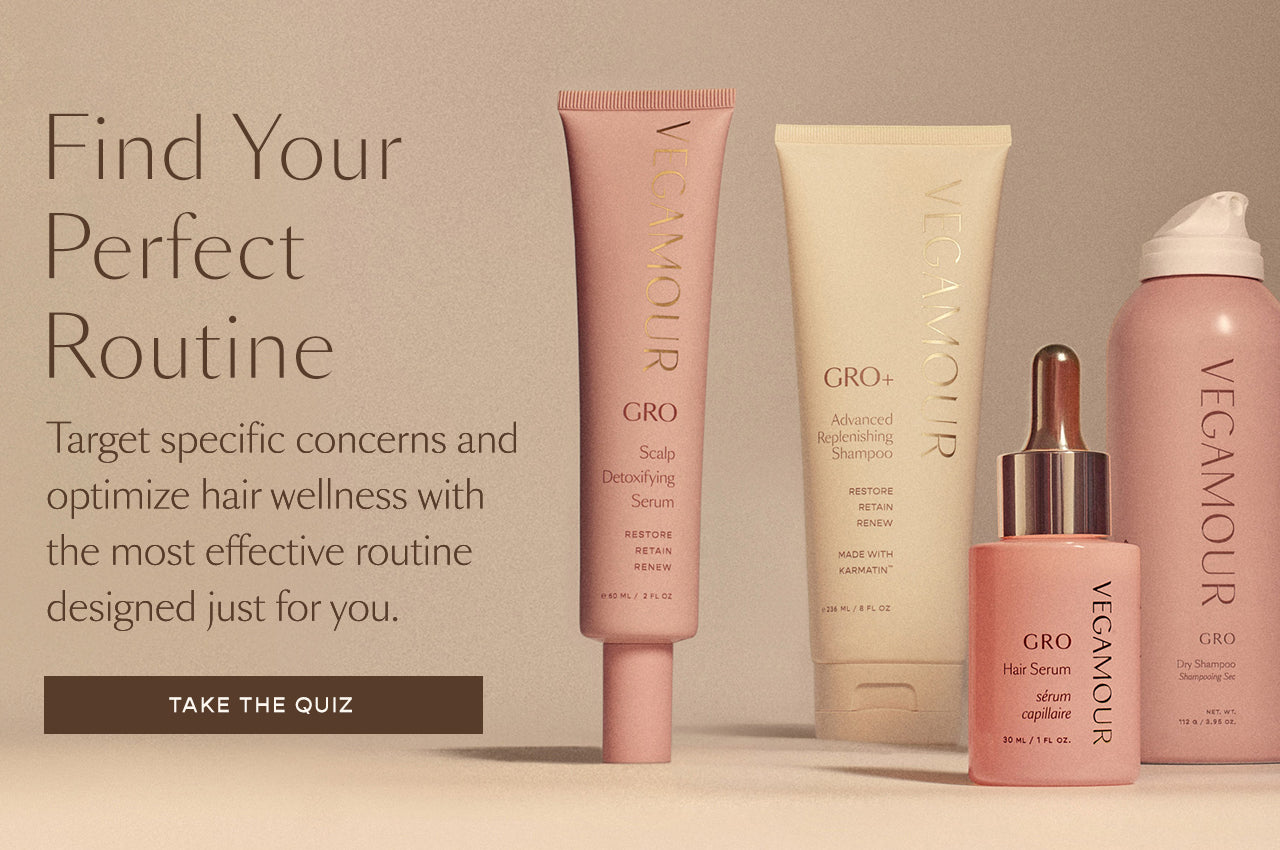 Disclaimer: Information in this article is intended for general informational and entertainment purposes only. It is not intended to constitute medical advice, diagnosis, or treatment. Always seek professional medical advice from your physician.